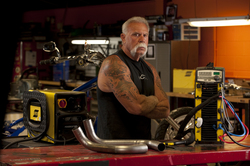 ESAB is thrilled to be associated with Orange County Choppers
Florence, SC (Vocus) July 19, 2010
ESAB Welding & Cutting Products has announced a new partnership with Orange County Choppers, the custom motorcycle shop founded by Paul Teutul Sr. ESAB will be the exclusive welding equipment provider for OCC, providing all the welding and cutting equipment and filler metals used in the shop and featured on the upcoming season of American Chopper, set to premiere on TLC in August. In addition, Orange County Choppers designed and produced a custom OCC chopper for ESAB.
The custom motorcycle was delivered on June 21 at Paulus Hook Pier, New Jersey, in front of the 911 memorial. The pier is located across from Manhatten Island with an amazing view of the NYC skyline. The location has a perfect view of where the Twin Towers stood and where the new Freedom Towers are now under construction. Two new towers are currently being constructed using ESAB filler metals.
"ESAB is thrilled to be associated with Orange County Choppers," says Andrew Masterman, President and CEO of ESAB North America. "OCC is the premiere custom motorcycle design shop with a long history of excellence in its workmanship. Like ESAB, OCC has been praised worldwide for its innovation and leadership. Like OCC, ESAB is dedicated to providing top quality product and exceptional customer service. ESAB prides itself on our ability to partner with our customers to provide the best solutions for their needs. We are especially proud to welcome Orange County Choppers to our family of partners worldwide and to be able to support Paul Teutul, Sr. in this upcoming season of American Chopper."
"ESAB makes the best welding equipment and filler metals on the market today. They have led the industry in innovation for quite some time and have contributed so much to make welding easier, safer and more profitable for welders around the world," says Paul Teutul, Sr. "ESAB cares about the little guys in the shop, whether you're welding for business, art or just to have fun. We love the feel of welding with quality ESAB equipment and filler metals, and we are looking forward to creating some beautiful new bikes with the ESAB advantage."
For more information on Orange County Choppers, visit http://www.orangecountychoppers.com.
With more than 100 years of experience, ESAB Welding & Cutting Products is one of the world's largest and most skilled manufacturers of welding and cutting equipment and welding filler metals. Ensuring customer satisfaction, a wide range of ESAB products carry the 100% Satisfaction Guarantee. Recognized as the technological leader in the industry, ESAB is committed to providing customized solutions for their customers. For more information on the company, visit http://www.esabna.com or call 1-800-ESAB123.
###