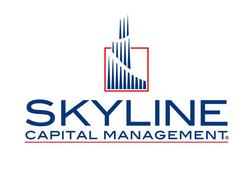 Using our patent pending and back-tested innovation in money management will push other principal protection programs closer to obsolescence.
Austin, TX (PRWEB) July 20, 2010
Skyline Capital Managements' patent pending method of money management designed to preserve and protect principal, supported by 10 years of back-tested data, is now available to Registered Investment Advisors and Public & Private Pension funds and institutions.
According to BNY Mellon Asset Management, "The funded ratio of the typical corporate U.S. pension plan fell 6 percentage points in June 2010 to 74%, the result of U.S. stock market declines and low interest rates." The average corporate pension fund is under-funded by 26%, which is dramatic.
"According to the Manhattan Institute for Policy Research, pension plans for public school teachers, which comprise about half of states' total pension liabilities, were underfunded by $933 billion dollars in fiscal year 2008, almost three times the amount that the plans had reported," as reported by Fortune Magazine on June 18,2010.
According to the American Enterprise Institute, "States report that their public-employee pensions are underfunded by a total of $438 billion, but a more accurate accounting demonstrates that they are actually underfunded by over $3 trillion. The accounting methods that states currently use to measure their liabilities assume plans can earn high investment without risk. Should plan assets fall short, as is likely, taxpayers are required to make up the difference."
Pension funds are not taking appropriate steps to mitigate market risk using outdated methodologies such as asset allocation, sector rebalancing and non-hedging techniques. This lack of risk mitigation has cost institutions and both public and corporate pension funds Trillions in unfunded liabilities.
"Schwab found that, on average, financial advisory firms generated $6,900 per client in 2009. That's a sizable drop from the $7,800 per client the firms generated in 2008. What's more, the median operating income earned by an registered investment adviser fell from 15% of revenue in 2008 to barely 10% in 2009," as reported by InvestmentNews.
This indicates market risk and losses have played a key role in Registered Investment Advisory firms realizing lower profits and revenues due to reductions of assets mainly from market losses.
In all the examples of revenue reduction and liability increases from market losses, could have been significantly reduced and avoided by using the VanderPal Method™ or Principal Protected Index™ program through Skyline Capital Management®.
The proprietary VanderPal Method™ and Principal Protected Index™ program allows for clients to receive capital gains in upward or downward moving markets or indices while 95% - 100% of the principal is invested into FDIC insured bank certificates of deposit or US government backed short-term notes. Earnings are reinvested back into principal to lock in previous returns on a continual basis, also referred to as the "Ratchet Effect."
The significance of the VanderPal Method™ and Principal Protected Index™ program is the advantages over other principal protected programs such as structured notes/products, index certificates of deposit and index annuities. Many of these programs described earlier have substantial penalties, market risk if not held to maturity, lack of investing options, tax issues and no periodic and continual locking in of gains.
VanderPal Method™ and Principal Protected Index™ program provides:

No surrender penalties
Fully liquid
Long-term capital gains tax on majority earnings
Can participate in the gains-linked to various equity indices and thousands of stocks
Continually locking in returns creating a Ratchet Effect that periodically locks your gains into principal
95% - 100% of principal invested and backed though FDIC insured bank CDs and Government bills or notes.
"The VanderPal Method™ and Principal Protected Index™ program can remove the segment of market risk drowning pension funds into large liabilities and assist Registered Investment Advisors with maintaining more stable asset levels through less negative market volatility and angry clients," says Dr. VanderPal.
For more information our website is http://www.SkylineCapitalManagement.net or contact Dr. Geoffrey VanderPal CFP® at 877-460-1570 ext. 102.
Skyline Capital Management® is a registered trade name for Principal Preservation Asset Management, LLC, a Texas registered investment advisory firm. Skyline Capital Management® specializes in principal preservation money management. Geoffrey VanderPal earned a Doctorate of Business Administration degree and maintains the Certified Financial Planner™ certification. Dr. VanderPal has over 18 years of professional finance and investment experience and teaches finance and economics at various universities.
# # #