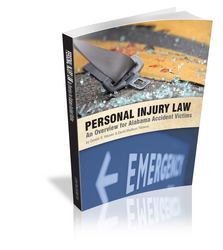 This is a project that we believe will assist accident victims and their families by allowing them to better understand the process of an injury claim
Birmingham, AL (Vocus) July 19, 2010
Weaver Tidmore, LLC, Attorneys at Law, in Birmingham, Alabama, is known for handling serious injury cases. They understand that most accident victims are caught unprepared for the life changing effects of a serious injury. As a public service and to help people understand the many issues associated with accident claims they have written a step by step explanation of the process for injury victims. Their book is called Personal Injury Law: An Overview for Alabama Accident Victims. This book will detail the process for the injury victim from initial claim to resolution. It includes valuable insight and actual stories from past cases to guide and inform them in this sometimes complicated world of injury law.
Dennis R. Weaver and David Madison Tidmore of the Weaver Tidmore law firm collaborated on this project with eleven other law firms across the country. "This is a project that we believe will assist accident victims and their families by allowing them to better understand the process of an injury claim. We also aim to help the general public by providing awareness with regard to the appropriate types of insurance coverage necessary to protect them in the event of an accident," says Weaver. " People are often surprised to learn that they can substantially increase the amount of coverage available to protect them for only a few dollars more than their current premium."
This book is available at Amazon.com. However, Alabama residents may obtain a free copy by calling the firm at 1-800-852-5989. You can also request a free copy of the EBook at http://www.weavertidmorelaw.com.
About Weaver Tidmore, LLC:
Weaver Tidmore, LLC is a law firm of dedicated and experienced trial attorneys committed to the representation of injured and wronged parties. The lawyers of Weaver Tidmore, LLC handle a wide array of personal injury, wrongful death and business tort cases. We continuously strive to obtain the most favorable result possible for our clients through a skillful and innovative use of the civil justice system.
Dennis R. Weaver and David Madison Tidmore have over thirty-five years combined experience handling personal injury claims. The firm consists of six lawyers and a large support staff. The firm has been active in numerous community projects and charitable organizations throughout its history. Additionally, Mr. Weaver devotes a significant amount of his practice to representing victims of crime and he is a charter member of the National Crime Victim Bar Association. You can reach Weaver Tidmore, LLC toll free at 1-800-852-5989.
###