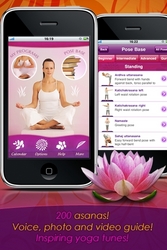 San Jose, CA (Vocus) July 20, 2010
Viaden Mobile has launched All-in Yoga, an app for iPhone/iPod Touch designed to help those hesitant about this ancient practice of body and mind take the first step as well as diversify the stable routine of experienced yoga practitioners.
All-in Yoga serves as a detailed guide toward the sense of harmony and calmness, a better understanding of one's body's feelings and needs. Targeting a wide variety of goals, such as stretching, balance, strong abs, warm-up and many more the app offers a comprehensive approach to a yoga routine.
An important aspect of yoga is freedom of choice. Understanding this, the developers came up with three modes of program selection. With just a few taps it is possible to choose from ready-made pose sequences developed by a professional yogi, get a workout compiled according to the user's parameters and goals or create custom workouts. Everyone is sure to find something for their stage of understanding yoga to suit their goals and abilities: Beginner, Intermediate, Advanced and Guru.
The ready-made programs are divided into three groups:

Sun Salutation – essential everyday yoga routine
Bala Yoga – strength yoga
Shakti Yoga – power yoga
All-in Yoga boasts an extensive collection of poses grouped according to their type and level. Each of them has a detailed text instruction, a voice and photo guidance. High-quality videos are also available. No user will feel lost in the sea of hard-to-pronounce Sanskrit names of poses with translations provided for all of them.
It is essential to maintain the right attitude and peace of mind during a yoga session. This is why the workout mode has been designed to go as smoothly and with as little participation of the user as possible. One tap is enough to set the pose sequence going. Special yoga tunes ensure inspirational mood and add to the feeling of peace and balance from within.
"We've tried to create an extremely user-friendly yoga app in order to attract those curious but shy people who for some reason find it hard to start yoga classes. The app is accessible anytime and anywhere, in the comfort of your home or in a park, so it is much easier to get started. Seasoned yoga practitioners will find some challenging asana sequences in the program too. Everyone can benefit from yoga in different ways, so let All-in Yoga help you find and follow your own path," says Yuri Gurski, Viaden Mobile CEO.
All-in Yoga is now available on the App Store for $1.99
About Viaden Mobile
Viaden Mobile is an acknowledged producer of applications for iPhone/iPod Touch, iPad and other platforms. Its apps are among the most popular in the Health and Fitness and Casino categories.
###