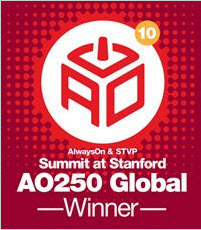 Menlo Park, CA (PRWEB) July 20, 2010
Unisfair, the leading provider of virtual events and business environments, announces it has been chosen by AlwaysOn as one of the AlwaysOn Global 250 winners. Inclusion in the prestigious list signifies leadership amongst its peers and game-changing approaches and technologies that are likely to disrupt existing markets and entrenched players in the Global Silicon Valley. Unisfair was specially selected by the AlwaysOn editorial team and industry experts spanning the globe based on a set of five criteria: innovation, market potential, commercialization, stakeholder value, and media buzz.
Unisfair has achieved significant momentum in the virtual events space. Demand for the company's technology more than doubled in 2009, and Unisfair is experiencing record growth in 2010. Enterprise customers, including CA, IBM, ATG, Ariba and Intuit have seen significant return on investment by leveraging Unisfair's virtual engagement platform.
"After examining the companies that are on the AO Global 250 list, it's obvious that innovation is not only alive and well in the Global Silicon Valley, it's accelerating in economic power and scope," says Tony Perkins, founder and editor of AlwaysOn. "The companies certainly represent some of the highest-growth opportunities in the private company marketplace."
The AlwaysOn Global 250 winners were selected from among thousands of domestic and international technology companies nominated by investors, bankers, journalists, and industry insiders. The AlwaysOn editorial team conducted a rigorous three-month selection process to finalize the 2010 list.
"We are honored to be name an AlwaysOn Global 250 company," said Hoang Vuong, CEO of Unisfair. "We share this recognition with our clients and partners that have helped us achieve such significant momentum and our leadership role."
Unisfair and the AlwaysOn Global 250 companies will be honored at AlwaysOn's eighth annual Summit at Stanford on July 27th, 2010, at the Frances C. Arrillaga Alumni Center at Stanford University in Palo Alto, CA.
This two-and-a-half-day executive gathering that highlights the significant economic, political and commercial trends affecting the global technology industries. Summit at Stanford's goal is to identify the most promising entrepreneurial opportunities and investments in the global tech industry.
A full list of all the AlwaysOn Global 250 winners can be found on the AlwaysOn website at: http://www.aonetwork.com/AOStory/Announcing-2010-AlwaysOn-Global-250.
Earlier this year, Unisfair was also named to the AlwaysOn OnMedia 100 Top Private Companies list, which honors advertising, media, marketing, branding and publishing companies at the forefront of technology.
For more information, visit http://www.unisfair.com
About Unisfair
Unisfair provides virtual events and environments that deliver highly measurable results for the world's most innovative enterprises. The company's industry-leading platform enables companies like Ariba, CA, IBM, Intuit, KPMG, Quest Software, and Novartis to implement a virtual engagement strategy across the customer lifecycle.
Unisfair's virtual events are easy-to-use and offer a highly interactive experience through speaking sessions, exhibition floors and networking areas. By delivering comprehensive attendee data, Unisfair's virtual events result in highly qualified leads and enhance demand generation, community building and customer advocacy.
Backed by Sequoia Capital and Norwest Venture Partners, Unisfair is headquartered in Silicon Valley and has led the virtual events space since 2000. For more information, visit http://www.unisfair.com.
About AlwaysOn
AlwaysOn is the leading business media brand networking the Global Silicon Valley. AlwaysOn helped ignite the social media revolution in early 2003 when it launched the AlwaysOn network. In 2004, it became the first media brand to socially network its online readers and event attendees. AlwaysOn's preeminent executive event series includes the Summit at Stanford, OnMedia, OnHollywood, Venture Summit Mid-Atlantic, OnDemand, Venture Summit Silicon Valley, Venture Summit East, GoingGreen Silicon Valley, and GoingGreen East. The AlwaysOn network and live event series continue to lead the industry by empowering its readers, event participants, sponsors, and advertisers like no other media brand.
# # #