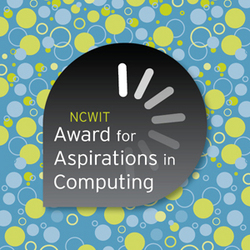 "Increasing the participation of girls and women in the technology workforce is vital to America's ability to innovate and thrive in a globally competitive world"
Boulder, CO (PRWEB) July 20, 2010
The National Center for Women & Information Technology (NCWIT) today announced it has received $51,000 from the Motorola Foundation Innovation Generation grant program. NCWIT will use the grant to expand its Award for Aspirations in Computing, which recognizes young women at the high school level for their computing aspirations and achievements.
The Motorola Foundation's Innovation Generation program seeks to boost American students' engagement in science, technology, engineering and math (STEM) through funding, employee volunteers, and intra-grantee collaboration. Building on President Barack Obama's "Educate to Innovate" campaign and federal initiatives like the Race to the Top Fund, Innovation Generation has to-date provided more than $20.5 million to STEM programs across the U.S. to support hands-on, innovative, initiatives.
"Increasing the participation of girls and women in the technology workforce is vital to America's ability to innovate and thrive in a globally competitive world," said NCWIT CEO Lucy Sanders. "We're grateful to Motorola for supporting the NCWIT Award for Aspirations in Computing in increasing the number of young women who pursue a technology career."
The Innovation Generation grant builds on earlier Motorola funding for the NCWIT Award for Aspirations in Computing, which to-date has recognized hundreds of young women around the country in both a national and local competitions. The grant will allow NCWIT to expand the Award program by increasing awareness among parents, educators, and students, and by increasing the number of young women who apply and are honored. This fall, NCWIT will sponsor more than 15 local Award competitions and expects to recognize at least 180 young women for their computing achievements and aspirations.
"With the help of this grant, NCWIT and Motorola can work together to ensure we are adequately building a diverse pipeline of critical thinkers and addressing the most pressing needs around education," said Eileen Sweeney, director of the Motorola Foundation.
About NCWIT
NCWIT is a national coalition of more than 200 prominent corporations, universities, government agencies, and non-profits working to recruit, retain, and advance women in information technology and computing. NCWIT's work connects research and programs from K-12 and higher education through industry, academic, and entrepreneurial careers. Find out more at http://www.ncwit.org.
About the Motorola Foundation
The Motorola Foundation is the charitable and philanthropic arm of Motorola. With employees located around the globe, Motorola seeks to benefit the communities where it operates. The company achieves this by making strategic grants, forging strong community partnerships, fostering innovation and engaging stakeholders. Motorola Foundation focuses its funding on education, especially science, technology, engineering and math programming. For more information, on Motorola Corporate and Foundation giving, visit http://www.motorola.com/giving.
###