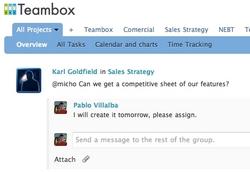 Teambox is available as a hosted application, or on your own enterprise servers.
San Francisco, CA (PRWEB) July 22, 2010
Taking the lessons learned from Facebook and Twitter, Teambox launches a new project collaboration service. It will allow your organization to build a corporate intranet without an IT department.
All the information inside Teambox is project-centric. Status updates, files and tasks are created inside projects, where groups of employees can collaborate over their tasks. Teambox is mobile-ready and supports an increasing number of integrations with 3rd party applications.
"In the mid-term, we will be integrating with popular services like Google Docs and Dropbox. This will be available to all our users", said Pablo Villalba. "Other popular requests we had in the past, like Gantt charts and intuitive task management, have made it into this release."
It's interesting that the service comes in two different modalities: as Software as a Service, and as a hosted open-source service. This allows bigger clients to keep sensitive data within their networks.
There is a free version with up to 3 projects, and monthly plans for the online service. Configurations for in-house setups start at $3 monthly per user.
# # #