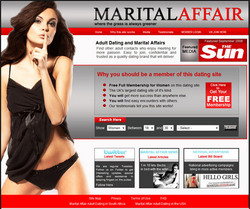 (PRWEB) July 21, 2010
Women in their 40's are twice as likely to look a passionate affair according to statistics released today by adult dating site maritalaffair.co.uk. Nearly 20% of women who regularly use the site are between 40 and 45 years old. That's 1 in 5 of all the women members are in this age bracket. Further research is showing that mid-life affairs are on the rise with over 3000 people a month ( stats Google ) are searching directly for "40 year old women"
MaritalAffair.co.uk has seen an ever growing shift towards this pattern and this growing trend is showing that there is plenty of excitement and need for more passion in the mature years.
A spokesman from MaritalAffair.co.uk said, "These numbers show a massive trend where the 40's is the age when women seek that extra thrill. There could be a number of factors affecting this. Women may find themselves with more free time as their kids become more independent, perhaps this is the age where their husbands fail to satisfy them, or maybe this reflects the fact that women in their forties are often more confident then at any other point in their lives and are feeling ready to take a few risks."
The top 3 most popular ages for women to have an affair:
1st 40-45
2nd 35-40
3rd 25-30
About MaritalAffair.co.uk:
MaritalAffair.co.uk, where the grass is always greener, is the UK's leading extra marital affair online dating site, with hundreds of thousands of members in the UK. Members get advanced functionality including a comprehensive display panel, recommended members, new members, diary entries and photos.
###