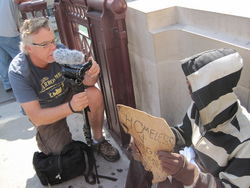 We're using social media to expose the pain, hardship and hopelessness that millions of people face each day
Los Angeles, CA (PRWEB) July 21, 2010
InvisiblePeople.tv - the nationally-recognized nonprofit that tackles poverty and homelessness using the power of social media - embarks today on its 2010 Road Trip U.S.A. to raise awareness and smash stereotypes about the plight of America's homeless.
The tour is scheduled to take InvisiblePeople.tv Founder Mark Horvath (who was himself homeless) to 28 cities, where he will help homeless individuals and families tell their stories via online social media.
"The goal is to make the 'invisible people' in society more visible by bringing them out of the shadows where they are ignored," said Horvath. "We're using social media to expose the pain, hardship and hopelessness that millions of people face each day."
The tour that begins today is Horvath's third such road trip since he founded InvisiblePeople.tv in November 2008. Over the next 72 days he will visit shelters, youth facilities and other places where homeless people congregate, in a mix of rural areas and large cities.
Armed with a hand-held video camera, laptop computer and smartphone, Horvath will post raw, unedited videos on the InvisiblePeople.tv video blog (vlog) and video sharing sites YouTube and Vimeo, as well as through social networks including Twitter, Facebook and Flickr.
Horvath added, "Each road trip grows larger, along with the homeless population and the reach of social media."
The InvisiblePeople.tv 2010 Road Trip is scheduled to visit the following cities:
7/20 - Las Vegas, NV
7/22 - 7/23 - Salt Lake City, UT
7/25 - 7/26 - Denver, CO
7/28 - Wichita, KS
7/30 - 8/1 - Bentonville, AK
8/3 - 8/4 - Austin, TX
8/5 - San Antonio, TX
8/7 - 8/9 - New Orleans, LA
8/11 - 8/13 - St. Petersburg, FL
8/14 - Orlando, FL
8/16 - Atlanta, GA
8/18 - Nashville, TN
8/20 - 8/22 - St. Louis, MO
8/24 - Louisville, KY
8/26 - Newport, KY
8/28 - Wilmington, DE
8/30 - 8/31 - Washington DC
9/2 - 9/4 - New York, NY
9/6 - 9/8 - Binghampton, NY
9/10 - Auburn, NY
9/12 - 9/14 - Detroit, MI
9/16 - South Bend, IN
9/18 - 9/19 - St. Paul, MN
9/21 - Bismark, ND
9/23 - Billings, MT
9/25 - 9/26 - Spokane, WA
9/28 - Bend, OR
9/30 - Santa Cruz, CA
Locations and dates are subject to change. Please visit http://www.InvisiblePeople.tv/calendar for schedule updates.
InvisiblePeople.tv's 2010 Road Trip U.S.A. is sponsored by Pepsi, Ford, Hanes, Sprint, 100kHomes, Los Angeles Dream Center, TubeMogul, Virgin Mobile, Gift Card Giver and Pitch Engine. To follow the Road Trip, please visit http://www.InvisiblePeople.tv.
A few facts about homelessness in America:

The average age of a homeless person in the U.S. is 9 years old (source: National Coalition for the Homeless).
Up to 3.5 million people are homeless in the U.S. during a given year. In 2008, family homelessness increased 56% in rural areas (source: U.S. Department of Housing and Urban Development).
The recession is likely to force an additional 1.5 million people to become homeless in the U.S. over the next two years (source: National Alliance to End Homelessness).
More jobs have been lost during the current recession than during any other period since the government began keeping records in 1939.
About InvisiblePeople.tv
InvisiblePeople.tv is a grassroots 501(c)(3) nonprofit founded in 1998 by advocate Mark Horvath (@hardlynormal on Twitter). The organization is primarily self-funded, along with a $50,000 grant from the Pepsi Refresh Challenge. After building a successful career in television syndication, Mark found himself homeless in 1995 following a battle with addiction. He worked hard to clean up his act, and was again living comfortably by 2007 with a three-bedroom house and a 780 credit score. But then the recession hit. After several layoffs and a foreclosure, he was once again facing homelessness. That's when Mark launched InvisiblePeople.tv with just $45 and a budding interest in online social media. In November 2009, he was named "one of the top activists to follow on Twitter" by the Huffington Post. More information is available at:
http://invisiblepeople.tv/twitter
http://invisiblepeople.tv/facebook
http://invisiblepeople.tv/flickr
http://invisiblepeople.tv/youtube
Media Contacts:
Mark Horvath (on the road)
(213) 245-1519
roadtrip(at)invisiblepeople(dot)tv
Erik Deutsch
(323) 851-2455
erikd(at)excelpr(dot)com
###