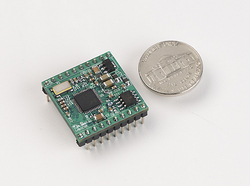 "We feel that the LSHM-200 sets a new standard for the Serial-to-Ethernet industry" says Alex Tsau, VP of Operations at Radicom. "Not only are we pushing new thermal limits, we have an industry-leading footprint, and a strong value price point."
San Jose, CA (PRWEB) July 22, 2010
Radicom Research, Inc., a leading designer and manufacturer of dial-up and wireless modems for Embedded Applications, today announced the immediate availability of its LSHM-200 Serial-to-Ethernet Modules for Embedded System Applications. The new module represents a breakthrough in both thermal capacity and size, all at a price point suitable for today's challenging economic environment.
"We feel that the LSHM-200 sets a new standard for the Serial-to-Ethernet device server industry," says Alex Tsau, VP of Operations at Radicom. "Not only are we pushing new thermal limits, we have an industry-leading footprint, and a strong value price point. It offers the ultimate in flexibility."
Measuring only 1" (W) x 1" (D) x 0.25" (H), the LSHM-200 connects serial devices to IP networks with a 10/100BaseT interface. It provides an easy and affordable solution for connecting microcontroller-based systems with serial ports to IP networks for remote control and monitoring applications.
"Many serial-to-ethernet modules come at 2.5" depth -- more than twice the LSHM-200's depth. The LSHM-200 also brings a wider thermal range, including sub-zero (Celsius) temperatures," says Tsau. "These specifications offer high durability for extreme applications such as remote monitoring."
Capable of operating between temperatures of -40°C and +85°C, the LSHM-200 allows for seamless access and communications of serial data through any 10/100BaseT Ethernet, even in extreme thermal conditions. It provides data transfer among multiple IP addresses simultaneously via Telnet ports with TCP/IP protocols under Ethernet. The onboard Ethernet functions conform to the widely adopted IEEE802.3 standard with automation and buffering, while the integrated serial port includes standard serial terminal features such as flow control and standard 8-N-1 character length.
With DTE speeds up to 230Kbps, the LSHM-200 delivers fast data transfer at a cost that is developer friendly (starting at $24 USD for 100 pieces). In addition, Radicom offers the LSDK-2001 Development Kit for ease of testing, programming, and evaluation. The kit includes the LSHM-200 mounted on a Radicom carrier board, complete with necessary connectors, power adapter and cable accessories
For more information, contact Radicom at 408-383-9006 or visit http://www.radi.com.
Summary of Features:

Compact size - 1" x 1" x 0.25" (H)
-40oC to +85oC operating temperature
Serial TTL interface
10/100BaseT network interface, auto-detect
100 Mbps data transfer rate
3.3V VCC
Full IEEE 802.3 compliance
Complete Serial-to-LAN connectivity solution including:
Network Processor, Mac and PHY interface
Support of TCP/IP, UDP, Telnet, HTTP, ICMP and ARP
DHCP and static IP support
LED pins out for monitoring LAN and link activity
Built-in 32K SRAM for Ethernet buffering
NVRAM for storage of configurations
DTE data speed up to 230K bps
Hardware and software flow control
RoHS compliant
Applications
ATM Terminals
Data Collection
POS Terminals
Remote Diagnostics
Remote Monitoring
Remote Metering
Security Systems
Vending Machines
Pricing and Availability
Radicom Research's Half-Inch Serial-to-Ethernet module is available now.
Prices begin at US$24.00 in quantities of 100.
About Radicom Research, Inc.
Founded in 1993, Radicom Research is committed to developing reliable, high-quality, simple-to-implement communications products including dial-up, wireless modems and device servers, competitively priced for OEMs, designers and industrial customers. Headquartered in San Jose, California, with offshore manufacturing capabilities, Radicom's OEM customers include Cisco Systems, Diebold, Hewlett-Packard, Siemens and Xerox.
Radicom works closely with its customers to ensure their embedded data communications systems are successfully integrated at the lowest cost with the highest capability. Radicom modifies its award-winning products to meet specific application requirements, and designs custom components to fit special needs, maintaining the fastest turn-around time in the industry. R&D efforts are focused on raising performance standards for small footprint data-communication components embedded in applications across a spectrum of industries.
OEMs and designers are invited to contact Radicom Research for consultation on the communication products for embedded systems applications. Phone: 1-408-383-9006, ext. 112; Fax: 1-408-383-9007; Email: sales(at)radi(dot)com.
# # #