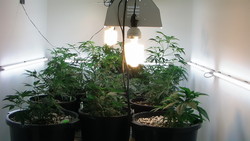 "We present a very in depth curriculum and we have a responsibility to offer the most informative classes possible"
Walled Lake, MI (PRWEB) July 22, 2010
It's summertime in Michigan and at the Medical Marijuana Academy (MMA) students are training for a new career. Recognized as the leading source for Cannabis Education, the MMA opened its doors just four months ago in Commerce Township, Michigan. The MMA features an array of knowledgeable and courteous professors. "We present a very in depth curriculum and we have a responsibility to offer the most informative classes possible," says academy President Derek Norman, "with our courses we are achieving that goal".
Students have traveled to attended the MMA courses from all throughout the United States. The new college is increasing the tourism that medical marihuana is bringing to Michigan. Norman points out, "We even put together travel packages for students that visit here and Michigan is benefiting."
Todd Alton, Professor of Horticulture for the MMA, graduated from Northern Michigan University with his B.S. in Botany. Alton offers a glimpse into the MMA classes, "it's about optimizing growth,potency, and production on every level, they (the students) leave the MMA with a comprehensive understanding of how to succesful in this industry". The MMA also has a selection of other classes that go beyond growing such as Business in the Industry, cannabis cooking and concentrates, advanced hydroponics, and the Law as taught by Attorney Paul C. Youngs.
The reemerging industry is so popular among Detroit residents that a proposal put forth to legalize one ounce of mairihana for adults over the age of 21 garnered enough signatures to go before the Detroit City Council for a vote. The City Council has chosen to leave it for the Voters to decide in November. "It's obvious that this industry creates revenue for the Local and National economy," says MMA Spokesman Perry Belcher. "All products sold and new business relating to medical marihuana are reflected in millions of dollars that Michigan needs right now and keeps those dollars domestic."
"We're going to keep seeing increased revenue in Michigan," Norman states, "it's said that the biggest goal here in Michigan is to improve the economy, and we're proud to be doing our part." As I'm leaving the college one thing becomes clear; there is a new found energy surrounding cannabis and perhaps this is a plant that can play an important role in balancing out economic issues. You can find out more about the Medical Marijuana Academy by visiting the college website at http://www.medicalmarijuanaacademy.com or by calling 1-888-487-0005.
# # #