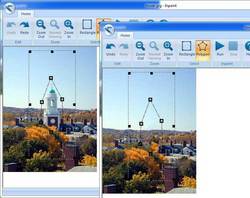 Inpaint - is the craziest thing I've ever seen
New York, NY (PRWEB) July 23, 2010
Even to experts in photography it's a challenge to remove minor defects or unwanted objects from the photograph and make it still look natural. Even a carefully done clean-up procedure leaves the unnatural emptiness shine on the cut-out spot. Inpaint, using a special modeling algorithm, fills the gap with texture from the photo being edited making it natural-looking and complete.
Restoring an image after having some part deleted from it requires analyzing the remaining objects' position and estimating how they would extend in the cut-out area. While the majority of the image editing tools hand such jobs over to the operator, Inpaint does the job on its own: Not unsuccessfully, it attempts to restore the picture automatically, filling the emptiness with a texture fitting naturally to the original picture.
The only actions required from user is outlining the area to be removed from the picture, defining the "donor" area that would "feed" the replacement texture and launching the restoration process - simplicity not comparable to overloaded with endless configuration options advanced image editors.
Besides photo restoration, Inpaint can be used for synthesizing texture for different objects. It's the same procedure as the "regular" photo restoration, except that for the "donor" area now can be selected any area on the image.
Each time the program is run over the same spot, it produces a different result. Image designers could take advantage of this for improving existing images and producing new ones from the ones that exist.
Want to learn more? Make sure to check out the Inpaint video tutorials!
This article includes a time-limited 50% DISCOUNT for Inpaint, just use COUPON code: SAVEHALF
# # #