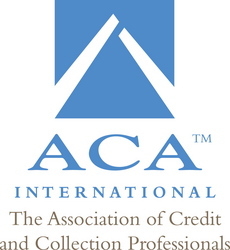 The task now is to work closely with the BCFP as the industry's chief federal regulator. ACA needs to help the BCFP find a balance between protection of the 4% of Americans who are not able or not choosing to pay their bills and the 96% who are.
Minneapolis, MN (Vocus) July 23, 2010
With the financial regulatory reform bill now signed into law by President Obama, the debt collection industry braces for the anticipated impact of this broad and complex legislation.
"We are disheartened by provisions in the financial regulatory reform bill that are all-inclusive without a clear understanding by lawmakers of the impact of their actions," said ACA International CEO Rozanne M. Andersen. "Collection agencies do not sell or offer financial products and services. In our opinion, all financial services industries are not created equal and to include the debt collection industry in this new law is overreaching."
As a non-issuer of consumer credit and already heavily regulated by the Fair Debt Collection Practices Act (FDCPA), over thirty four state consumer protection laws, state regulators and the Federal Trade Commission (FTC), the collection industry sought a carve-out to exclude itself from financial regulatory reform legislation but was rebuked by Congress. Despite disappointment about not obtaining the carve-out, Andersen noted, "Many industries not directly engaged in the issuance of credit worked very hard to attain carve out provisions and none were successful."
The new reform most relevant to the collection industry is the creation of the Bureau of Consumer Financial Protection (BCFP) within the Federal Reserve, which will have consumer financial protection responsibilities and rulemaking authority. The industry aggressively pursued a claw-back amendment whereby the FTC would retain jurisdiction over consumer protection laws such as the FDCPA and the Fair Credit Reporting Act (FCRA).
"The task now for our members is to work closely with the BCFP as the industry's chief federal regulator. ACA needs to help the BCFP find an appropriate balance between protection of the 4% of Americans who are not able or not choosing to pay their bills and the 96% of Americans who are." said Andersen. "Our members work on behalf of hundreds of thousands of U.S. businesses to collect just debts in a professional, respectful, consumer friendly manner. Lawmakers and regulators need to understand, we are not the enemy. We are keeping the economy running and preventing businesses from closing their doors. But most importantly, third party debt collectors are the last ray of hope for consumers who might otherwise have to file bankruptcy."
ACA International, the Association of Credit and Collection Professionals, is the comprehensive, knowledge–based resource for success in the credit and collection industry. Founded in 1939, ACA brings together more than 5,000 members worldwide, including third–party collection agencies, asset buyers, attorneys, creditors and vendor affiliates. ACA International establishes ethical standards, produces a wide variety of products, services and publications, and articulates the value of the credit and collection industry to businesses, policymakers and consumers. For more information about ACA International, visit acainternational.org
Contact: Mark Schiffman, PR Director
Tel. (952) 928-8000 X 124 or Schiffman(at)acainternational(dot)org
###