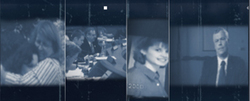 People often ask me when my documentary about abusive bosses is going to be finished. The beauty of this is that it's ongoing and doesn't have to be completed before a workable law is in place.
Staten Island, NY (PRWEB) July 25, 2010
Increasing opportunities to self-distribute on the Internet allow established producers like Beverly Peterson a new venue to explore topics like Workplace Bullying that are not ordinarily on a programmer or funder's radar. "The hardest part of this project," says the award-winning documentary filmmaker, "has been to make others understand that these heart-wrenching stories are credible and deserve to be heard." Bullying bosses are rarely held accountable for indiscriminately targeting one employee after another to destroy careers and lives and it's hoped a law will change that. Almost three years ago Peterson began filming the grassroots activists in their struggle to pass broader harassment legislation and in 2009 launched her video blog, THERE OUGHTA BE A LAW: NoJobIsWorthThis.com. "The site evolves constantly with new chances to tell people's stories through YouTube, Facebook, Twitter, Wordpress etc," says Peterson. "If I had to stop and raise the funding to do this project for broadcast I never would have been able to accomplish all that I have so quickly." Last month she presented her website and videos at the prestigious 7th International Conference on Workplace Bullying & Harassment in Cardiff, Wales. "I told them that normally I premiere my work at a film festival, museum or on television – but for this topic I was delighted that their venue would serve that purpose."
For Peterson, this New Media exhibition format has changed the way she looks at producing videos. Site visitors can click the RESOURCES page to find updated links to free HR Policy Templates, Gov't & Non-Profit Orgs offering counseling and help, a News Archive, Research papers, Books on this topic and more. New videos are uploaded regularly throughout the site and users can click FEATURED VIDEOS to witness victims stories from all across the country. Unlike traditional documentaries, this cutting edge approach lets viewers hit the pause button while watching a video and just "click" on a link to get important information and answers whenever they want. "It's an editor's dream - immediate, intimate and powerful," says Peterson. The DEFINITION page can help victims put words to what they or a loved one may be going through and the BLOG contains alternative commentary and updates on this topic. A newly added feature is a "take action link" to the International Educational Coalition on Workplace Bullying that Peterson helped form. The coalition brings together Researchers, Practitioners, and Victims to share free resources, ideas and global dialogue.
**Beverly Peterson's documentaries have been broadcast internationally, and screened at major festivals including; HBO, PBS The Sundance Channel,The Sundance Film Festival, Human Rights Watch, Museum of Modern Art, Brooklyn Museum of Art,The Walker Art Center, The Warhol Museum, The Kitchen. 71 West Broadway: Ground Zero, New York, NY was selected as part of the memorial presentation at the Library of Congress, which has included it in the national 9/11 film archive. Portions of Invisible Revolution, were featured on ABC's 20/20, Dateline, and HBO specials on domestic terrorism.
###