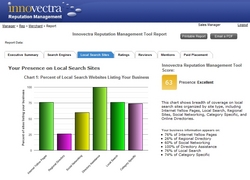 The small business marketplace needs this service...
Leesburg, VA (PRWEB) July 26, 2010
MyRepMan is a reporting tool and syndication service developed by Acxiom's technology partner Moon Valley Software. Using the service, business owners can find out where they are listed online and what customers are saying about them. The comprehensive MyRepMan report includes data from Internet yellow pages sites, local search sites, regional directories, social networking sites, category-specific sites, blogs and news sites.
In addition to reporting on the state of your Internet reputation, MyRepMan takes action, as designated by the business owner and on the business owner's behalf, to create, correct, or improve listings across the web. Over time, the business owner will see the result in terms of greater visibility, higher search engine rankings and increased traffic to the business website and storefront.
MyRepMan also brings social media to the local business, helping businesses establish a presence on Facebook and Twitter and reporting on user reviews at several popular review sites. MyRepMan reports on your online presence in detail, letting you know which sites contain ratings and reviews for your business such as Yelp, Judy's Book, Insider Pages, Local.com and Yahoo! Local. MyRepMan pulls in content from reviews, online newspapers, blogs, and social networks.
"The small business marketplace needs this service," said Thomas C. Lewis, president and CEO at Innovectra. "Business owners are concerned about the state of their listings, and they need a way to track what customers think. Our agreement with Acxiom allows us to put a powerful tool at their disposal."
The initial launch of reputation management services is taking place with Comporium Publishing in South Carolina and SureWest Directories in Northern California. Yellow page advertisers in these areas now have the opportunity to subscribe to reputation management services powered by MyRepMan.
"Innovectra is an excellent choice for using MyRepMan," said Michael Schwalbert, managing director of Acxiom's Diversified Industries Group. "Their proven track record as technology providers in the local marketplace means they're ideally positioned to demonstrate the value of this service."
###