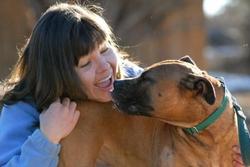 A major victory for the animals!
Rockville Centre, NY (Vocus) July 24, 2010
"A major victory for the animals!" was the cry this week following the emphatic repeal of a short-lived, three-month-old Rockville Centre, N.Y. law that had banned pit bulls and rottweilers.
"It's truly a victory for the dogs and all pet lovers in a community that sees the importance of treating every dog as an individual instead of lumping them into one group," said Ledy VanKavage, senior legislative analyst for Best Friends Animal Society and leader of its national campaign, Pit Bulls: Saving America's Dog.
Through the campaign, the Society had been following the Rockville Centre law and provided resources to help make the case for the repeal by the Rockville Centre board of trustees following emotional testimony from local residents. Most criticized the measure for stereotyping of dogs because of appearance.
VanKavage praised the work of public service attorney Lauren Gallagher and intern Chris Parrucci, who helped put together a body of information to help make the case for the Rockville Centre repeal.
She pointed out that the Rockville Centre repeal spotlights a central flaw in all breed-specific legislation—the failure to evaluate dogs on the basis of individual behavior.
"The central core of our philosophy at Best Friends Animal Society is that animals deserve to be treated as individuals," she said. "The repeal of this law surely will save the lives of thousands of dogs, and though we still have a long way to go, our campaign is making a difference in educating the general public about the unfairness of these breed specific laws, as well as the high cost of enforcement, and their ineffectiveness as public safety measures."
Best Friends introduced the Breed Discriminatory Fiscal Impact Calculator in 2009 to help municipalities understand the real cost of enforcing bans and restrictions on dogs because of their looks. The study that led to the calculator pointed out that dogs often identified as pit bulls may be, in fact, another breed entirely, which raises the question on how to properly identify animals that under the law might be banned.
"There were also many other animal welfare groups that lobbied against this unjust law," she said. "But it was the determination of local residents, who really got behind this effort, which as the deciding factor in getting the law repealed."
For more information:
John Polis
Senior Manager, Public Relations
Best Friends Animal Society
435-644-4858
###