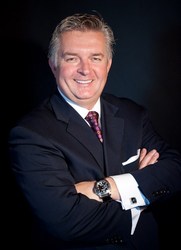 "This new procedure results in a beautiful natural looking smile, blowing away the typical Denture-Look" said Dr. Heimke
Cleveland, OH (PRWEB) July 27, 2010
John Heimke DMD-The Facial Aesthetic Designers, Inc. In the US about 30 million people have no teeth in the upper and or lower jaw and have dentures, that's about 1 in 10 or 10% of the population. Many denture wearers learn to tolerate having this large piece of plastic with teeth, it's similar to a having an artificial leg. Often the fit is 'OK" and the look is often associated with old age. Dentistry has not developed much in this area the last 60 years, and the results are dentures that look like "Aged teeth, that are yellow, worn and misaligned. Supposedly to give the patient a "natural look".
Cosmetic Dentists are now challenging this philosophy, and transferring traditional skills used in Smile Makeovers on patients with teeth to Denture patients, the results are Amazing!
Announcing a New Denture service:
This new procedure is called The Cosmetic Denture. This procedure is so revolutionary in Dentistry, it will make the lives of people who wear and struggle with dentures on a daily basis, so much better, comfortable, and enjoyable. They will not have to worry about the embarrassment of their old Denture-Look Smile when at a social function, with the family, or at business. "Plus this new procedure results in a beautiful natural looking smile, blowing away the typical Denture-Look" said Dr. Heimke, who is using his years of expertise in Smile Makeovers with porcelain veneers and crowns and using those principles to design Cosmetic Dentures. There are millions of denture wearers in our country and they have as much right to a beautiful smile as people with teeth that get Smile Makeovers. Dr. Heimke uses the principles of Facial Aesthetic Design to create a Vibrant, White, Natural Smile via the Cosmetic Denture. The Cosmetic Denture actually takes a great deal expertise because the dentist has to create the smile from practically nothing. "I have no teeth and usually limited gums and bone to work with, compared to patients with teeth. The gums are designed to fill out the face and are custom stained to create a natural look, the teeth are a wonderful shade of white with shape a form crating a more youthful look."says Dr. Heimke.
When combined with dental Implants, the Cosmetic Dentures actually "snap on" and stay in place when a person puts them in.
"The greatest thing about Cosmetic dentures is that it allows a patient to Change their Life in a dramatic way and not to look and feel, second-class in a society where looks and vibrancy of age are number 1 said Dr. John Heimke.
The Cosmetic Denture is the answer to those who desire the look of a Smile Makeover via porcelain veneers and do not want an Aged- Look. As with, Smile Makeovers, Cosmetic Dentures are a premium treatment and cost is similar to a traditional Smile makeover with porcelain veneers.
Dr. John Heimke is an expert in treating the Aging Smile and using Facial Aesthetic Design. He is available to answer your questions and help get the message out. Dr. Heimke makes for an informative and very interesting interview, and has very important information your audience needs to be made aware of. If you'd like to interview Dr. Heimke, please call him at 216-496-8132 email: jheimkedmd(at)gmail(dot)com.
###