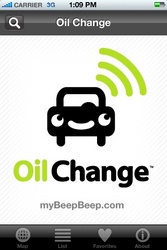 Way better then some of the general purpose apps. Fast and super simple to use. "actual iTunes review"
Seattle, WA (PRWEB) July 29, 2010
myBeepBeep Media has released Oil Change for the iPhone, iPod and iPad. Oil Change is the world's first mobile oil change and car care services marketplace. Oil Change the iPhone app is available for immediate download as a free app on the Apple iTunes store now.
The app lists national and regional fast lube chains, dealership service departments to the independent repair shops, Oil Change the iPhone app will locate the user automatically then sort shops by distance, price, deals offered and help consumers find the type of shop that fits their vehicle maintenance needs. The app allows access to real time deals exclusively found on the app. Shops can list other services like car washes, brakes, tires and radiator flushes offered right from the iPhone app. Shops can sign up by going to http://www.mybeepbeep.com and start posting deals for free for a limited time.
myBeepBeep Media has been inundated with calls from shop owners and Marketing Managers around the US and Canada asking to sign up to be included on the app. Currently in negotiations with most of the national and regional chains as well as hundreds of Dealerships and independents, "there is so much excitement, It feels like my band is getting signed" says Founder and CEO Scott McHugh, "one manager said that this is the most exciting thing to happen to the Fast lube industry in decades". "With my background in the Automotive industry, everyone asks me where to go to get their car fixed so, I created a tool to help the good shops connect with customers and customers easily find good shops. The goal has always been to create a partnership with the industry and serve the customer".
Currently on the app, top rated shops list great deals including an oil change at Phil Smart Mercedes-Benz in Seattle for 60% off. Vallejo, CA, Avery Greene Honda posted a deal for $10 off and in Dallas, TX, City-Garage had a deal offered for $29.00 originally $39.00. There can be thousands of offers from shops going on simultaneously and this actually makes finding an oil change fun. The consumer can find great deals all over the country from Fast lube stores to Dealers service departments to mom and pop shops. The old days of a lube tech standing by the street in front of a shop waving a sign that reads "$5 off right now" may be over thanks to the Oil Change app. Download it yourself at the Apple iTunes Store
Oil Change app features:
FREE Oil Change is an iPhone that is free to download!
FIND TOP NOTCH SHOPS Map you area shops and locate them automatically
SAVE MONEY List shops by Price and Distance; services and qualifications, see instant coupons, deals and incentives from your favorite shop on your phone in real time!
CONVENIENCE Make a list of your favorite top rated Oil change shops and quickly shop without calling or driving around
CONTACT YOUR FAVORITE SHOP EASILY Call them with one simple TAP, no more looking for their phone number or guessing if they can fit you in
# # #