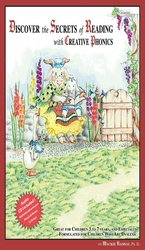 Soquel, CA (Vocus) July 28, 2010
Would you like to teach your child to read with ease and delight? To receive support in nurturing your child's creative spirit and self-esteem? If your answer to these questions is yes, then this new book is for you.
In her wonderfully clear and lovingly expressed book, reading expert, master teacher and researcher, Dr. Mackie Ramsay reveals in simple detail the secrets of teaching children to read successfully. Using a creative phonics program enhanced by enchanting music and art, Discover the Secrets of Reading with Creative Phonics (published by Trafford Publishing) includes alphabet and letter sound lessons. But the key that unlocks the mystery of how to teach another person to read is her Three Essential Steps, supported by a series of creative teaching aids which enhance the learning process. All the senses of the students are utilized in the unfolding magic of Dr. Ramsay's program, and as a wonderful by-product, the learner's sense of accomplishment and self-esteem are enhanced.
This book will appeal to parents, teachers and children; will be in demand by libraries, educational institutions, counseling agencies, churches, and even correctional institutions. Dr. Ramsay's system of teaching reading works.
About the Author
Dr. Mackie Ramsay received her Ph.D. in Counseling from the University of South Carolina. She began teaching children to read with remarkable success more than 45 years ago in Charleston, S.C. While in Charleston, she was chairman of the board and taught reading at Horizon House, a school for young teenage boys in conflict with the law. Dr. Ramsay also taught parenting classes and assertiveness training classes, including workshops for therapists and teachers, for the South Carolina Department of Mental Health. As the Director of the Mental Health Center in Walterboro, S.C., she taught reading, parenting, and assertiveness training. In 1980, Dr. Ramsay moved to California where she has continued her teaching and counseling practice, and developed Discover the Secrets of Reading with Creative Phonics.
Discover the Secrets of Reading with Creative Phonics
Available from: http://www.trafford.com, http://www.bn.com , and http://www.amazon.com
EDITORS: For review copies or interview requests, contact:
Promotional Services Department
Tel: 1-800-AUTHORS
Fax: 812-355-4078
(When requesting a review copy, please provide a street address.)
###