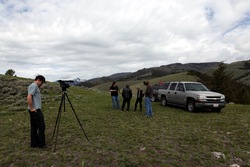 We were honored to host Marty Katz and show him first-hand the benefits of shooting in Montana
Helena, MT (Vocus) July 26, 2010
On a recent trip to Montana, Hollywood film producer Marty Katz explored the Montana film industry. Hosted by the Montana Film Office as the winner of the Studio 406 Familiarization Trip Giveaway, Katz's expedition is documented in a newly released webisode series, entitled "Montana. The Ultimate Location," that highlights the Big Sky State's abundant filming opportunities.
"We were honored to host Marty Katz and show him first-hand the benefits of shooting in Montana," said Sten Iversen, Montana Film Office manager. "The webisode series reveals what Montanans already know — that around every corner is a backdrop worth capturing, and with our Studio 406 incentives we're out to show producers, like Marty, that there are real advantages to filming under the Big Sky."
"Episode 1: The Scout Begins" is the first of five web shorts that follow Katz's journey to some of Montana's most film-worthy locations. The subsequent webisodes to be released through September also feature Montana's authentic Old West, its one-of-a-kind places, and the magic light and wide-open vistas of the state as well as its experienced crew, which have contributed to major feature films and television productions. "Episode 1" is now posted at the Film Office's YouTube channel at http://www.youtube.com/montanafilm, where the full "Montana. The Ultimate Location" series will be released as well.
The trip for Katz was also a scouting opportunity for one of his newest projects, Blizzards (working title). "I first visited Montana in the late '80s and was impressed then by the state's unbelievable landscape," said Katz, "and was pleased to see that Montana continues to unlock its creative potential and offer solid economic benefits to productions."
"Through the webisodes, filmmakers can see what Marty saw — beautiful Rocky Mountain landscapes, diverse shooting opportunities and skilled crew — all wrapped up in Montana's Studio 406 incentive package," said Iversen.
Katz owns Marty Katz Productions located in Malibu, Calif. Most recently, Katz was one of the producers of "Love Ranch," starring Oscar-winners Helen Mirren and Joe Pesci. Katz has more than 20 years experience in film and television production. He served as Executive Vice President in charge of Motion Pictures and Television for Walt Disney Studios before branching out and creating his own production company. It was during his time at Disney that he first visited Montana while filming "Disorganized Crime."
The Studio 406 Familiarization Trip Giveaway Contest was launched to promote Studio 406, the Montana Film Office's new incentive package. Studio 406 is a convenient bundling of all the incentives Montana offers, including a 14 percent refundable tax credit based on hired Montana labor, a nine percent refundable tax credit for production expenses, with no cap and no minimum spend, no sales tax, free production office furniture, low-cost or free location fees, long summer shooting hours, experienced crews, and hundreds of different looks. More information on the Montana Film Office and its incentives can be found at http://www.montanafilm.com.
###