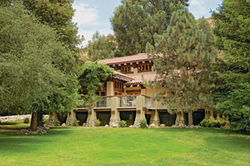 Post your equestrian property on www.USHorse.biz and reach interested buyers nationwide.
Glendale, CA (PRWEB) July 27, 2010
The first unique property offered on USHorse.biz is Middle Ranch, listed by Stevi Fielding and Dilbeck Christies Great Estates (818-541-7344) for $28,000,000. Commanding a dramatic presence in tranquil Little Tujunga Canyon, where Cecil B. DeMille had his personal working ranch and retreat, is this sprawling equestrian facility. Currently run as three separate ranches, this state-of-the-art turnkey property includes 11 lit arenas—one indoor and one Grand Prix grass field, 20 barns, grass pastures, and dry pasture for cattle. Owners and guests will enjoy the award-winning Grand Lodge with a heated pool, locker rooms, tennis courts, and a superbly appointed caterer's dream kitchen. An array of purchasing options is available, including owning the entire ranch of over 600 magnificent acres. Another possibility is to own the main ranch of 119 acres along with the spectacular Middle Ranch Equestrian Center and the Grand Lodge, with all of its desirable amenities. Prospective owners may instead opt for the Main Ranch and North Ranch Training and Boarding Facility. Another alternative would be to purchase the Main Ranch plus the exclusive First Ranch, with its multiple residences and breathtaking scenic pastures. Convenient to Greater Los Angeles, Middle Ranch provides extraordinary future development possibility due to its generous size and a coveted location less than 25 miles from Beverly Hills. The property's quality facilities and expansive vistas of the mountains and canyon make this a rare offering with a wealth of ownership options. http://www.ushorse.biz/w-realestate.php?id=61&src=&p=1&state=
The second property is a 249-Acre Ranch with Stunning Views Just Outside of Los Angeles in Santa Clarita, CA, offered at a reduced price of $5,900,000, by Monique Bryher of Keller Williams (818-430-7605). This huge ranch owned by Hollywood celebrity Preston Foster in the 1930s up for sale for the first time in 25 years!
Blanketed by gentle chaparral, magnificent oak trees with ravens, hawks and owls and a panoramic view of the Bouquet Canyon Reservoir, this property calls to the special owner who desires peace, tranquility and a love of nature. Main house has 3 beds / 3 baths. Rustic hunting Lodge has bar, film projector room, 2 bedrooms, bath. There are two smaller houses on the property used by guests or ranch hands, stables for 8 horses and 2 swimming pools. Keep as your private retreat, turn into a non-profit, use for film production, or develop into equestrian estates, vineyard estates or a resort. http://www.ushorse.biz/w-realestate.php?id=55&src=&p=1&state=
To find out how you can market your business and post properties, visit http://www.ushorse.biz or call Judy Walker, 818-551-1251.
###