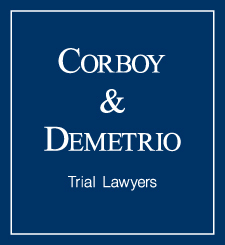 Chicago, IL (Vocus) July 27, 2010
Corboy & Demetrio attorneys, David R. Barry, Jr., and Dan Kotin, have obtained a $1.9 million settlement for a woman who was injured in an automobile crash and then further injured by the doctor who treated her. The case was pending in the Circuit Court of Cook County, Chicago, Illinois, before the Honorable Henry Simmons.
On March 2, 2006, Jihan Khoury, 43 years old, was driving southbound on Route 31 in Elgin, Illinois, taking her mother to an eye doctor appointment when she hit by a car driven by Nicole Simons. Jihan suffered neck pain and was subsequently treated for her injuries by Dr. Sarmed Elias.
On March 31, 2006, she was receiving a second in a series of cervical cortisone injections from Dr. Elias at his Surgi-Center in Chicago, Illinois. Rather than inject the steroid into her epidural space, Dr. Elias injected directly into her spinal cord. When Jihan woke up from the anesthesia, she was in terrible pain and unable to move her right arm. She was transported to a hospital where she remained for 9 days.
As a result of the steroids being injected directly into her spinal cord, Jihan has limited use of her right arm or hand, as well as numbness on the right side of her head, face and back.
Attorney Kotin stated:
Jihan Khoury was a victim twice in the course of four weeks, first with the car crash and then with a medical procedure. As a result, she has very little use of her right arm and as the mother of small children, it makes life very difficult.
Khoury v Simons, Sarmed G. Elias, M.D.; Illinois Medical Group; Bone & Joint Center, P.C. and Six Corners Same Day Surgery, LLC. Case number 2007 L 3871 A.
To consult with Attorneys Barry or Kotin, or any other lawyer at our Chicago personal injury law firm, call 312.346.3191. We are available 24 hours a day, 7 days a week
Further firm information can be found on the Corboy and Demetrio Findlaw firm profile or the Corboy and Demetrio HG law firm profile.
About Corboy & Demetrio
Corboy & Demetrio is one of the nation's premier law firms. It represents individuals and their families in serious personal injury and wrongful death cases arising out of airplane and railroad disasters, failed products, medical malpractice and a host of other catastrophic events. Corboy and Demetrio is renowned for its achievements in the courtroom and for its contributions to the community. The rights and concerns of its clients are at the core of Corboy & Demetrio's practice. That commitment, dedication, compassion and relentless drive has resulted in exceptional service and exceptional results. The firm has acquired more than $3 billion in settlements and verdicts, of which almost 600 were in excess of $1 million.
###