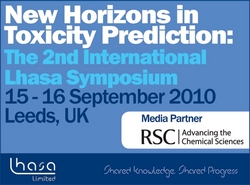 Lhasa Limited is delighted to announce the opening of it's bursary scheme for the 2010 Symposium. The event features high profile keynote speakers and will be of great benefit to academics working in relevant areas.
(PRWEB) July 29, 2010
Individual bursary awards cover the student delegate fee and Symposium dinner (£118) in addition to funding towards travel to and from the event and upto 2 nights accommodation. In return for the bursary recipients must provide a 500 word (minimum) formal review on the event and its value, submitted within three weeks of the event.
The event is organised with support from media partner the Royal Society of Chemistry (RSC) and will be hosted at Leeds Royal Armouries Museum in the UK on 15th - 16th September 2010.
Further details about the bursary scheme and the event can be found at http://www.lhasasymposium.com.
Speakers confirmed for the event:

Dr. Thomas Hartung - Director of the Center for Alternatives to Animal Testing (CAAT)
Dr Sabcho Dimitrov - Bourgas "Prof. As. Zlatarov" University
Dr Thomas A. Baillie - University of Washington
Dr Antony Williams - ChemSpider, Royal Society of Chemistry
Professor Hiroyuki Kusuhara - University of Tokyo
Dr Dennis Smith – Pfizer
Professor Alexander Tropsha - University of North Carolina
Thomas Holmes – AgChem Project Consulting Ltd
Dr Chris Portier - National Institute of Environmental Health Sciences
Dr Melvin Andersen - The Hamner Institutes for Health Sciences
Dr Eric Blomme - Abbott Laboratories
Dr Jim Bridges, University of Surrey
Professor Elaine Hughes, Imperial College, London
Dr William B. Mattes, PharmPoint Consulting
Day One Agenda Highlights:
Presentations on September 15th will focus on current issues in toxicity prediction. The event will open with a plenary session presented by Dr Thomas Hartung, Director of the Center for Alternatives to Animal Testing (CAAT) and the Doerenkamp-Zbinden Professor and Chair for Evidence-based Toxicology in the Department of Environmental Health Sciences at the Johns Hopkins Bloomberg School of Public Health.
Other speakers on day one will cover good practices for building robust QSAR models, metabolism mediated toxicity prediction and the Royal Society of Chemistry's ChemSpider online chemical database. Talks about the OECD Toolbox, implementation, application and impact of the EU REACH legislation and the Predictive Safety Testing Consortium will also feature on the event program for day one.
A poster presentation session will coincide with a networking luncheon on day one; delegates are invited to submit posters for this session by 31st March 2010. The Symposium dinner will also take place on the evening of September 15th. This will include a drinks reception and three course meal stylishly hosted in Royal Armouries Hall. Further details can be found on the event website.
Day Two Agenda Highlights:
September 16th will begin with a plenary session from Dr Jim Bridges, head of the European Institute of Health and Medical Sciences. Dr Bridges will set the theme for the second day with a presentation on emerging areas in toxicity prediction.
The remainder of presentations on day two will look at transporter modelling, toxicogenomics and metabolomics in toxicity assessment and systems biology. The afternoon session will feature talks on TK/TD prediction, and the importance of susceptible subpopulations in prediction of toxicological risks.
Further Details & Registration:
For further details or to register please visit http://www.lhasasymposium.com.
###