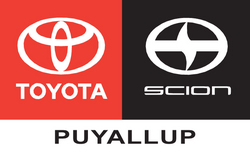 "Only through a relentless commitment to customer service has Toyota of Puyallup been able to consistently exceed all Toyota performance standards and win our prestigious President's Award every year it has been offered. By combining this commitment of c
Puyallup, WA (PRWEB) July 28, 2010
For the 24th consecutive year, Toyota of Puyallup earns the prestigious Toyota President's Award for customer satisfaction. The dealership is the most awarded Toyota dealership in the state of Washington, and is one of only five Toyota dealers in the nation (out of 1,228 Toyota dealers) to have won this award every year since the award's inception.
"We experienced numerous challenges in 2009: the worst economy since the Great Depression, the 'Cash for Clunkers' program, and auto sales being at a 10-year low. To receive the award again this past year shows the strength of our team, which persevered through these challenges and continued to provide the highest levels of customer service," states Kerry Bivens, President & General Manager of Toyota of Puyallup.
Toyota dealerships strive to match the quality of their products with the finest service in the industry. In order to qualify as a President's Award winner, dealerships must excel in a number of different categories, including Sales Satisfaction, Service Satisfaction, Market Share, Vehicle Delivery Excellence and Employee Certification. Dealerships must meet or exceed the standard in all areas of dealership performance in order to qualify for this award.
"Only through a relentless commitment to customer service has Toyota of Puyallup been able to consistently exceed all Toyota performance standards and win our prestigious President's Award every year it has been offered. By combining this commitment of customer service with an equal desire to retain their associates, they have successfully created a culture of long term relationships with their fiercely loyal customers. Congratulations on a tremendous accomplishment," declares Cooper Ericksen, Assistant General Manager of Toyota Motor Sales, USA, Inc. - Portland Region.
Toyota of Puyallup employs 115 people and will sell in excess of 2,500 new and pre-owned vehicles in 2010.
Toyota of Puyallup is located at 1400 River Road, Puyallup, WA 98371. Phone: 253-286-6000 or http://www.toyotaofpuyallup.com.
###