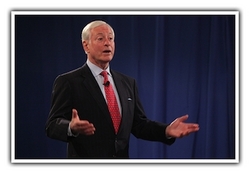 "I've found that luck is quite predictable. If you want more luck, take more chances. Be more active. Show up more often." Brian Tracy
San Diego, CA (PRWEB) July 29, 2010
Seminar Insiders has announced that business expert, Brian Tracy, will hold a financial and wealth workshop entitled "Brian Tracy's Build a Great Business." This seminar represents the first time that Tracy will present and host his own private event. The event will be held Friday through Sunday, Sept. 17-19, 2010 in San Diego, CA. Details at Brian Tracy Total Business Makeover
EXCLUSIVE EARLY BIRD Seminar Insiders is offering a buy 1, get 1 early bird bonus before August 1, 2010 - Earlybird Registration Brian Tracy
This is a two and a half day intensive business workshop. Seating is limited and early registration is encouraged. Registration includes admission to the seminar and one year subscription to Total Business Makeover Group coaching. Attendees also receive one-year access to the online training program, Business Training Strategies, and one-year access to monthly tele-seminars. In addition, participants receive the complete seven-part Strategic Planning Program. Attendees also have the option of bringing a guest for free.
At Brian Tracy's Build a Great Business Workshop, participants will take an active part in the transformation of their business. The event will impart the 10 skills needed to grow a multi-million dollar business and individuals will experience a total business makeover.
In addition to Tracy, workshop attendees will have the opportunity to learn from his associates, Bill Walsh, Brendon Burchard and John Assaraf, all successful business professionals. The exclusive workshop will provide you with proven techniques to survive, thrive and grow your business in any business climate.
About Brian Tracy International:
Tracy is a business expert, author and speaker known worldwide. His presentation topics include leadership, business strategy, sales and management effectiveness. He recently launched an online course of study, Brian Tracy University, designed to assist entrepreneurs, business owner and sales professionals. The Brian Tracy College of Business and Entrepreneurship at Andrew Jackson University is named after him. The Alabama-based university is a distance learning center based on his teachings. Tracy and some of his business partners also launched the online learning community, iLearning Global.
For more information on Total Business Makeover, or to register for the workshop, visit Brian Tracy. The site provides complete information on the workshop, registration and other pertinent details. You can also register by visiting Register For Brian Tracy Seminar.
###