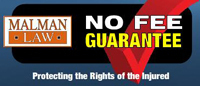 Chicago, IL (PRWEB) July 30, 2010
Malman Law has moved to a new office located in downtown Chicago's "Loop" and only two blocks from the courthouse. According to Attorney Steven J. Malman, "This expansion and growth is taking place all with the sole purpose to better serve our clients." Specializing in personal injury and accident cases in Chicago, Malman Law is able to resolve cases in months that typically take other firms years to complete.
The office's convenient location will allow the firm to continue to honor their "if you can't come to us, we'll go to you" pledge. This ensures that injured clients can meet with an attorney even if their injury makes it hard for them to travel. Initial consultations are free with no obligation.
The move has also allowed them to improve their office by implementing new technology with new PCs, phones, plasma TV's and conference rooms. These tools will aid in the ability to service client needs with the attention that is the firm's standard. The firm has also welcomed 2 new attorneys for a total of 7. One of their attorneys is a doctor who is able to evaluate client injuries in order to determine the recovery needed.
Malman Law is a personal injury firm serving the greater Chicago area. Founded in 1994 by Steven J. Malman, the law firm is focused on providing superb legal representation and outstanding customer service. The new office is located at 205 W Randolph on the 6th floor. For more information on the personal injury and accident services provided by Malman Law visit http://www.malmanlaw.com
# # #