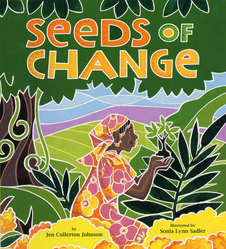 We might not change the big world but we can change the landscape of the forest.
New York, NY (PRWEB) July 29, 2010
In the wake of the BP disaster, a new trend has emerged: do-it-yourself environmentalism. Politicians and activists are urging everyone to step up instead of waiting for laws to change and companies to reform. In the words of President Obama, "It's clear that change won't come from Washington alone. It will come from Americans across the country who take steps in their own homes and their own communities to make that change happen."
Those looking for proof that one individual can make an impact need look no further than the Nobel Prize-winning environmentalist Wangari Maathai. Her story is chronicled in the new children's book SEEDS OF CHANGE: Planting a Path to Peace (ISBN 978-1-60060-367-9, $18.95, 40 pp., LEE & LOW BOOKS), written by Jen Cullerton Johnson and illustrated by Sonia Lynn Sadler.
Maathai transformed the landscape of her native country, Kenya, through a simple idea: teach women to plant trees. Since she began her work, over thirty million trees have been planted, and the Green Belt Movement she founded has spread around the world.
SEEDS OF CHANGE is a powerful lesson in how the actions of a single person can make a difference. It's an especially crucial story for young people, whose environmental education should emphasize that even small actions can have a big impact.
Today there are plenty of easy changes that people can enact to make a difference without waiting for Washington or Wall Street to jump on board. Start recycling and composting your trash. Plant a garden. Turn off the lights when you leave a room. As Wangari Maathai once said, "We might not change the big world but we can change the landscape of the forest."
ABOUT: Jen Cullerton Johnson, author of SEEDS OF CHANGE, is an educator and environmentalist. She has taught all over the world and now teaches at an inner-city elementary school in Chicago, Illinois. Illustrator Sonia Lynn Sadler is a fine artist whose work focuses on depicting the cultures, lives, and stories of peoples of African descent. She lives in Maryland and New Jersey.
ABOUT THE COMPANY: LEE & LOW is an independent children's publisher focusing on diversity. It is the company's mission to meet the need for stories that all children can identify with and enjoy. Visit leeandlow.com to learn more.
# # #