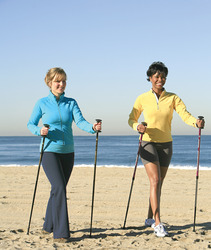 in a strong position to expand into these new markets in partnership with qualified distributors.
Madison, WI (Vocus) July 31, 2010
Exerstrider Products Inc., a leader and pioneer in Nordic walking poles, is seeking qualified distribution partners to help expand and strengthen its brand position as Nordic walking continues to become a leading fitness trend in immerging markets around the globe.
According to Exerstrider's founder and CEO Tom Rutlin, the company's industry-pioneering, innovative Nordic walking poles are currently being distributed in the U.S., Canada, The Netherlands, Germany, Taiwan, South Korea and Australia. With the rapid growth of Nordic walking in the UK, Mediterranean and Eastern European countries, Japan and China, Exerstrider is "in a strong position to expand into these new markets in partnership with qualified distributors." Rutlin also sees "almost unlimited potential for growth across" South America, India, Asia, Africa and the Middle East, since anyone who can walk can enjoy all of the additional documented benefits of Nordic walking anywhere they would otherwise just walk.
"Nordic walking has tremendous potential to make a profound impact on the health of millions of people of all ages and in all cultures around the world" according to Rutlin who is widely considered to be the "father" of the Nordic walking movement. "The Saudi Arabian Ministry of Health has just committed to be the first country to establish Nordic walking programs in the Middle East."
"Nordic walking", so named because the activity combines the simplicity and accessibility of fitness walking with specially designed poles used much as they would be in Nordic skiing to involve the muscles of the core and upper body, first exploded in popularity across Scandinavia and Northern Europe in the decade following its introduction in Nordic skiing loving Finlanders in 1997.
There are now an estimated 10 million plus Nordic walkers involved in a movement which has been rapidly growing in popularity among walkers of all ages and abilities all around the globe. The majority of the growth is now in places where snow is seldom or never seen. Since the benefits of the activity can be derived anywhere from city streets and sidewalks, to indoor tracks, to nature trails or even in the world's most exotic locations by anyone who can walk, Rutlin says Nordic walking is poised to continue its growth toward becoming the hottest new trend in fitness all around the globe.
With more than 100 million fitness walkers in the U.S. alone, Rutlin believes the number of people involved in the Nordic walking trend could reach more than a billion people around the globe by 2020.
Qualified parties can learn more about Exerstrider products at http://www.exerstrider.com, and may send inquiries to tomrutlin(at)exerstrider(dot)com.
###