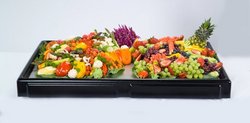 H and the holding unit is 19 1/4
West Milwaukee, WI (Vocus) July 30, 2010
Leading manufacturer of temperature-controlled, portable catering equipment, TempStations, continues to lead the industry with its new launch of an innovative action station system to approximately 2,000 attendees at this year's American Culinary Federation (ACF) National Convention, held at the Anaheim Marriott, Anaheim, Calif., Aug. 2-5. The revolutionary technology, CoolStation, will be unveiled at booth #EA-3 during ACF's annual trade show at the Anaheim Convention Center, Aug. 3-4.
"TempStations recognized the need for a cooled-controlled buffet station," states Chef John Warren, VP of Product Development, TempStations. "We are proud to have created one of the most advanced portable action station systems in the industry."
Due to modern day technology, the CoolStation serves as a portable action station, for use of caterers, chefs, franchisees and food service managers. The server system reduces risk of time and temperature neglect while improving food cost through reduced waste. Utilizing the science of fresh preservation, the safe-cooled buffet station is fully equipped to lock in moisture and freshness of perishables. The recirculation of an FDA approved Thermal Solution, connects cooling lines to maintain a safe and steady holding temperature for food. With craftsmanship, innovation and design in mind, the action station maintains safe food holding temperatures for deli, vegetable, fruit displays and sushi creations.
Available interior dimensions include rectangular; 40"L x 20" W x 1.5" H and square; 20"L x 20" W x 1.5" H. With advanced technology, the system can remain within cool temperatures for up to one hour in duration. Also available are CoolStation bowls, 20"W x 20 ¾"L x 9"H, holding up to two gallons of weight, most suitable for salads.
TempStations will also showcase "Frostation," a portable ice cream mix-in station used by caterers, hotels and more as a profitable alternative to traditional dessert stations. The system is completely portable allowing creations of made-to-order dessert delights anywhere. Available interior dimensions for the mix-in tray is 48"L x 14 3/8"W x 5/8"H and the holding unit is 19 1/4"L x 13 1/2"W x 8 1/4"H.
"Both products help create professional action stations for caterers, hotels, cruise lines, resorts, and clubs."
ACF's national convention will draw chefs, cooks, students and foodservice professionals to the Golden State, and will provide attendees with numerous opportunities to advance their professional development and culinary skills through informative workshops and seminars, and cutting-edge demonstrations. In addition, more than 100 exhibitors will be on the floor of the convention trade show.
For more information or to view product video demonstrations, visit http://www.tempstations.com.
About the American Culinary Federation, Inc.
The American Culinary Federation, Inc., established in 1929, is the premier professional organization for culinarians in North America. With more than 20,000 members spanning 225 chapters nationwide, ACF is the culinary leader in offering educational resources, training, apprenticeship and programmatic accreditation. In addition, ACF operates the most comprehensive certification program for chefs in the United States. ACF is home to ACF Culinary Team USA, the official representative for the United States in major international culinary competitions, and to the Chef & Child Foundation, founded in 1989 to promote proper nutrition in children and to combat childhood obesity. For more information, visit http://www.acfchefs.org.
About Tempstations
TempStations is a manufacturer of a revolutionary modular, temperature maintaining technology to help caterers, chefs, franchisees and food service managers worldwide. TempStations currently markets two product lines using this technology, Cool Station and Frostation. The revolutionary technology was patented by Chef John Warren in 1999. With over 30 years of food service experience, his expertise in the industry led to innovative products that solve universal food service obstacles. For more information, call 888-988-5488 or visit http://www.tempstations.com.
###