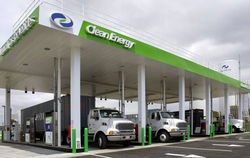 Natural gas vehicles are already proven and only natural gas has the capability and capacity to dramatically reduce our dependence on oil.
Boston, MA (PRWEB) August 13, 2010
The United States has all it needs to win the battle against oil addiction on home ground and help lead the rest of the world out of the same addiction. That's the message of NGV Global – the International Association for Natural Gas Vehicles – at an industry summit in Boston, Massachusetts today.
NGV Global Executive Director, Brett Jarman, who is in Boston speaking at the Summit, says the US has the most at stake but is also in the position of most power when it comes to addressing the economic and environmental impacts of dependence on oil for transportation. "Your country has the highest per capita energy consumption in the world, with only 5% of the world's population but accounting for 20% of the world's oil consumption," he said. "Replacing oil use in transport with natural gas on a large scale in the US will have resounding effects around the world including immediate reductions in greenhouse emissions and addressing the economic instability of relying on crude oil, a fuel which so few countries have in surplus."
The United States has vast resources of clean burning natural gas with more than 100 years of supply available at current consumption rates. "Oil imports actually represent wealth exports for the US of approximately $1 billion per day and imports of unwanted air pollution and greenhouse emissions," said Jarman. "The net effect is actually an energy surplus for the US as you already have plenty of energy on hand in the form of natural gas."
"Current bills in the Senate and House of Representatives that favour natural gas vehicles should be given priority treatment as soon as the current recess concludes," he said. "A $1 billion plus per day addiction will not be addressed with small measures so now is the time for your leaders to step up and take the interventions required."
Jarman urged a 'top down' approach, tackling the highest fuel users first to ensure maximum impact. "10 million trucks and buses on US roads represent only 4% of your country's transport fleet yet use 23% of your transport fuel. Natural gas is ready to start replacing diesel in these vehicles today."
Natural gas can be used in most classes of vehicle, including Class 8 trucks, and is already used in more than 12 million vehicles around the world today. "A lot of money is being spent on research for alternatives that will only ever have niche applications and will not be market ready for years to come," said Jarman. "Natural gas vehicles are already proven and only natural gas has the capability and capacity to dramatically reduce our dependence on oil. No other country can impact global oil markets as much as the US and I urge your political leaders, including President Obama, to set ambitious targets and start implementing large scale programs now,"
NGV Global data indicates there were almost 11.5 million natural gas vehicles operating around the world at the end of 2009 and the association expects this to increase more than fivefold, to more than 65 million by the end of 2020.
About NGV Global
Established in 1986, NGV Global (International Association for Natural Gas Vehicles) is the peak international body servicing the rapidly growing natural gas vehicle (NGV) industry worldwide. Together with their global network of affiliated associations, the association represents more than 300 companies and organisations. Details of the association and industry can be found at http://www.iangv.org, http://www.ngvglobal.com and http://www.ngvglobal.org.
###