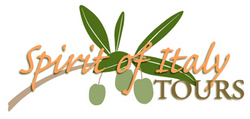 "Picking olives is a fun and relaxing way to spend quality time with family and friends in a natural, outdoors setting, and off-season travel to Tuscany allows visitors a real chance to get to know the area and to connect with the local people."
San Jose, CA (PRWEB) August 19, 2010
For active travels seeking an authentic way to experience Italian local culture, and go beyond every-day sightseeing, an experiential tour where people immerse themselves in the local culture, is becoming increasingly popular.
The Tuscany region of Italy, off season in the Fall, presents travelers with abundant choices for enjoying authentic, slice-of-life experiences during the olive harvest season, known as "la raccolta." Spirit of Italy Tours is presenting a once-in-a-lifetime olive-picking tour, Harvest Italia, November 1 – 8, 2010.
The customized itinerary affords tour guests time to hand-pick olives at Casa Falcioni, a 10-acre property in the central Tuscan town of Cavriglia, dotted with nearly 600 olive trees. Guests also will learn about the traditional olive oil making process and enjoy a guided tour by the Casa Falcioni proprietors to a local olive pressing facility to see self-picked olives turned into olive oil. Each Harvest Italia guest will also be able to take home a bottle of olive oil made from their hand-picked olives for a truly memorable experience.
Just Pack Your Enthusiasm
"An olive picking vacation is ideal for those with a passion to explore the spectacular beauty of the Italian countryside when the temperatures are moderate, seasonal produce such as truffles and wild mushrooms and local wines are in abundance, festivals abound and the crowds of tourists have thinned," says Vicky Gray-Clark, founder of Spirit of Italy Tours. "Picking olives is a fun and relaxing way to spend quality time with family and friends in a natural, outdoors setting, and off-season travel to Tuscany allows visitors a real chance to get to know the area and to connect with local people."
Spirit of Italy Tours has selected the family-run Agriturismo Valleverde(Green Valley) as home base for the seven night duration of the Harvest Italia tour. The farmhouse and vacation apartments are nestled in the Chianti hills and surrounded by woods and vineyards – conveniently located to Florence, Siena and Arezzo – and offers an ideal oasis to explore natural surroundings; and a point of departure for day trips. "Tuscans characteristically eat local, seasonal fare. Agriturismo Valleverde's old farmhouse has been converted into a top quality restaurant and Harvest Italia guests will be treated to the proprietors' warm and welcoming hospitality and authentic meals featuring the family's home grown vegetables and olive oil as well its own wines," adds Gray-Clark
Connect – Learn - Experience
The Harvest Italia 2010 tour package includes 7-nights lodging at Agriturismo Valleverde; all ground transport in Italy, olive picking; Chianti winery tour; cooking demo; sightseeing in Florence, Siena, Cortona, and much more. The tour affords guests the security and time-saving options of a planned schedule of events to pick olives, savor seasonal culinary delights, explore the sights, language, culture and indescribable beauty of the region during harvest season, yet allow people time for leisure exploration. Tour size is limited to no more than 10 adults (plus children) to allow travel to off-the-beaten path locations
Pricing and Registration
Harvest Italia 2010 pricing, itinerary and registration information is available at http://www.spiritofitalytours.com/registration.htm, or by contacting Vicky Gray-Clark at 408-318-1980, vicky@spiritofitalytours.com. For additional information, please visit Spirit of Italy Tours on Facebook: http://tinyurl.com/yj69z9b and YouTube: http://www.youtube.com/watch?v=8HjqJ7amPCU.
About Spirit of Italy Tours
Sprit of Italy Tours is a boutique travel company located in San Jose, Calif., offering small groups of travelers intimate and experiential journeys to Tuscany. The company's Harvest Italia 2010 tour is scheduled for November 1 – 8, 2010. Company founder, and tour operator, Vicky Gray-Clark, has traveled throughout Italy and is affectionately known as an Italophile – one who loves all things Italian. For additional information on Spirit of Italy Tours, please visit, http://www.spiritofitalytours.com.
###