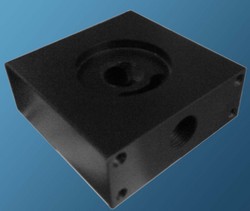 Intended for applications in sever duty environments and areas of extreme contamination
Sherrodsville, OH (PRWEB) August 26, 2010
Engineered Systems Controls announces today they had made available their ControlCoat coating service for fuel and hydraulic filtration heads, valves, manifolds and pump applications.
The ContrlCoat provides a non-stick surface finish while providing improved internal flow rates with less restriction.
Intended for applications in sever duty environments and areas of extreme contamination, the ControlCoated products fit right at home in mining, agricultural and industrial operations and allow for easy dirt and contamination removal from their surface.
The ControlCoats are available in standard black and are available on all products manufactured by Engineered Systems Controls and available for any customer and OEM part and product application.
About Engineered Systems Controls Corporation:
Engineered Systems Controls is engaged in developing and manufacturing fuel filtration solutions and product design and development initiatives for mechanical, hydraulic and pneumatic systems, sub-systems, components and assemblies for industrial, commercial, agricultural, forestry, off-highway, power generation, transportation, military, marine and mining applications.
###