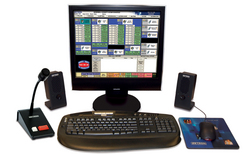 We chose Zetron because we needed a solid partner who had a mature product, could meet our aggressive timelines, and could support this important, mission-critical delivery
Redmond, WA (PRWEB) August 2, 2010
Zetron announced today that its Advanced Communications System (Acom) was a key component of the IP-based CORP25 radio-network communications solution EADS Defence & Security implemented recently for the Royal Canadian Mounted Police (RCMP). The EADS solution was used by the RCMP to maintain land mobile radio voice communications security during the recent G8 and G20 summits held in Huntsville and Toronto, Ontario, Canada.
While the EADS CORP25 digital trunked radio network provided the solution's infrastructure, Zetron provided the Acom IP-based radio dispatch console system used during the event. Acom is a fully digital switching and multiplexing system that represents the state of the art in dispatch console technology for mission-critical applications. Acom provided an IP-based, Project 25 (P25) interface to the EADS CORP25 trunked network. The Acom system used in this solution conforms to the Federal Information Processing Standard (FIPS) 140-2 for digital encryption, offering a sophisticated level of security that few systems can provide.
Serving Ontario
Rapidly deployed in under seven months, the CORP25 digital radio communications network was developed not only to serve the RCMP's critical communications needs during the two summits, but also to provide ongoing safety and security for the RCMP within the boundaries of Ontario. The P25 digital radio communication network will be part of Ontario's new Central Region Operation Communication System.
Canada's Largest Security Effort
The G8 and G20 summits are annual forums where world leaders meet to discuss issues of common concern, ranging from terrorism to the economy. According to Canadian public- safety officials, the summits this year represented the largest deployment of security personnel for a major event in Canadian history.
The CORP25 radio network and Acom system provided for the summits worked flawlessly, despite an extremity high rate of usage.
.
A Solid Partner
"We chose Zetron because we needed a solid partner who had a mature product, could meet our aggressive timelines, and could support this important, mission-critical delivery," said Chuck Sackley, Vice President and General Manager, EADS Land Mobile Radio business unit. "Because the solution needed to meet FIPS 140-2-certification, Zetron engineers incorporated Kenwood's Secure Cryptographic Module [SCM] into the Acom console. This complied with the customer's critical requirements."
"In a situation where the demands were challenging and performance was critical, the Acom system performed very well and just as we needed it to," said Ellen O'Hara, Zetron President and CEO. "We are very happy with the way we were able to support EADS and the RCMP in their efforts"
About EADS Defence & Security (http://www.eads.com; http://www.plantcml-eads.com)
EADS Defence & Security (DS) is a world-leading provider of mission-critical communication and command-and-control solutions through its line-of-business security and communication solutions and operational business units of PlantCML in the U.S. and Canada. EADS Defence & Security (DS) is a systems solutions provider for armed forces and civil security worldwide.
About Zetron (http://www.zetron.com)
For 30 years, Zetron has been providing mission-critical communications solutions for clients in the fields of public safety, transportation, utilities, manufacturing, healthcare, and business. With offices in Redmond, Washington, U.S.A.; Hampshire, England; Brisbane, Australia and numerous field locations, Zetron supports a worldwide network of authorised resellers and distributors. This gives Zetron a global reach as well as a local presence in the regions it serves. Zetron is a wholly owned subsidiary within JK Holdings, Inc.
# # #