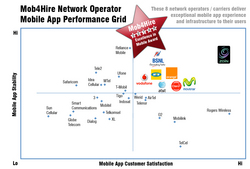 Our survey shows that 65% of smartphone users consider mobile apps when selecting a new network operator, so those that don't quickly implement a good strategy are going to miss out on the mobile app gold rush.
Calgary, Canada (PRWEB) August 3, 2010
Mob4Hire, in collaboration with leading customer loyalty scientist Business Over Broadway, today announced its Summer Report 2010 of its "Impact of Mobile User Experience on Network Operator Customer Loyalty" international research, conducted during the Spring. The 111-country survey analyzes the impact of mobile apps across many dimensions of the app ecosystem as it relates to customer loyalty of network operators.
The 26-page report includes 22 figures including 3 ranked grids of 32 different Network Operators' performances in 111 markets:
1) Network Operator Performance Grid: ranks Customer Service Quality and Coverage/Reliability Quality
2) Hayes Wireless RAPID Loyalty Grid: compares purchasing growth and new customer growth
3) Mob4Hire Mobile App Performance Grid: ranks Mobile App Stability and Mobile App Customer Satisfaction
According to the survey, the two best network operators in the world are Vodafone and Zain, which are the only two that appear in the top quadrant of all three grids.
The report is available at http://www.mob4hire.com/services/global-mobile-research for only $495 Individual License (1-3 people), $995 Corporate License (3+ people).
KEY FINDINGS

The key finding quantifies that mobile applications and handsets are becoming increasingly important factors in network operator customer loyalty. Top drivers of network customer loyalty, however, continue to be coverage/reliability and customer service quality.
Mobile apps affect churn at network operators. According to the report, sixty-five percent of respondents indicated that mobile applications are important in their decision to select a network operator. When defecting from a network operator, thirty-seven percent of respondents cite lack of mobile apps as a reason.
Conducted by Dr. Bob Hayes, Ph.D. (President of BusinessOverBroadway.com) and Mob4Hire.com, the survey used Mob4Hire's extensive international "mob" of mobile users on it's crowd-sourced mobile testing and market research platform; the 5,000 respondents in the survey came from 111 countries, on 204 different wireless survey providers, using 179 different handset devices. The panel members are early adopters living a mobile lifestyle, and their behavior represents trends that help predict future revenues and business outcomes across the mobile ecosystem.
OTHER HIGHLIGHTS

Smartphone users need to see at least a 4-star user review rating in an app store before they download / purchase a mobile application.
Twenty-seven percent of respondents said they are likely to switch to another network operator within 12 months.
Eighty-nine percent of mobile users report they have experienced a mobile app crash on their phone.
Seventy-nine percent of the respondents indicated they are likely to recommend their network operator to a friend. Fifty-five percent of respondents said they are likely to purchase additional services from their network operator.
Thirty-seven percent of respondents think their network operator's coverage is inadequate. Half of the respondents said customer service is not adequate.
COMPANIES REFERENCED
Network Operators: Tigo, Mobitel, Sun Cellular, O2, Zain, Globe Telecom, Ufone, Vodafone, Warid Telcom, BSNL, Tele2, Telenor, Indosat, Mtel, Dialog, Smart Communications, Movistar, Airtel, Mobilink, 3, Claro, Telkomsel, T-Mobile, Reliance Mobile, Orange, AT&T Mobility, Rogers Wireless, Idea Cellular, MTN, XL, Telcel, Safaricom
Handset Manufacturers: Apple, RIM, HTC, Sony Ericsson, Nokia, Samsung, LG, Motorola
SUPPORTING QUOTES

Stephen King, CEO, Mob4Hire "Mob4Hire's mobile community of 'real people on real handsets with real opinions' is in virtually every country on the planet. Nowhere is the effect of customer loyalty played out more immediately than on the battlefield of mobile apps, so being able to understand how to incorporate user feedback into app and marketing development can make the difference between success and failure. Our survey shows that on average, people need to see 4 star ratings in mobile apps before they'll download. The fascinating aspect of this is that the experience of using mobile apps on handsets also affects network operators churn and potential revenue growth."
Dr. Bob Hayes, Ph.D., President, BusinessOverBroadway.com "The wireless industry is evolving quickly, but the fundamentals of providing the core products of wireless coverage and service are still a struggle for many network operators. These firms are also unprepared for creating a good mobile app ecosystem. Our survey shows that 65% of smartphone users consider mobile apps when selecting a new network operator, so those that don't quickly implement a good strategy are going to miss out on the mobile app gold rush. We were able to understand this information from a global panel of mobile users using Mob4Hire's platform and survey tools at a fraction of the cost of other data collection methods."
# # #