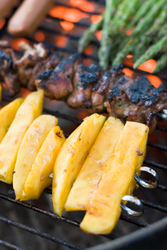 A few summer themes tend to be popular year after year ... We try to find ways to put new twists on old favorites to help our visitors' parties really stand out.
Los Angeles, CA (PRWEB) August 10, 2010
With summer half way through and some parents likely thinking of the school season, party idea website Themeaparty.com is announcing their "Summer is Still Here!" event online. They encourage families to celebrate with Luau, beach, barbecue and holiday summertime parties, and are offering new articles detailing exciting twists on party planning.
"Summer is the ideal time for a backyard party," says Chris Molnar, owner of Themeaparty.com. "In most areas, the weather is more temperate, which puts everyone into a great mood. Summertime is its own invitation to get together with friends and have fun."
To answer its visitors' needs for unique party ideas, Themeaparty.com has upped its number of party tutorial categories, putting a big focus on summer activities.
"A few themes tend to be popular year after year," Chris says. "Luaus, pool parties and barbecue parties top the list this year, as they did last year. We try to find ways to put new twists on old favorites to help our visitors' parties really stand out."
For 2010, the site offers new ideas like "honky-tonk" backyard barbecues with easy to arrange decorations, such as daisies in simple glass jars for an inexpensive centerpiece with big impact. Polynesian-style foods like pork with pineapple sauce also jazz up a backyard barbecue.
Summer parties often include more than one generation, so site subscribers tend to ask for "ideas for kids' parties that adults can stomach," Chris laughs. "You want to stay with one basic party theme, but make sure there's plenty of crossover – such as foods both grown-ups and kids like, and games that won't be too stressful to watch!"
A few fun summer kids' party themes include a ladybug party, a tea or fairy garden party, and summery décor and foods that tie in with favorite Disney movies. So too are crossover-age movie parties like Avatar, a perfect choice for an outdoors celebration since the focus of the Na'vi in the movie is the outdoor jungle environment, that can be decorated as an underwater theme.
"With Avatar," says Chris, "you can decorate it as a jungle theme, but as much of the alien flora is inspired from plants and animals in the coral reefs, you can turn it into a tropical ocean theme as well."
The majority of Luau party ideas listed at Themeaparty.com are economical, and often teach users how to create their own decorations. And they can be expanded on depending upon one's creativity level – and how much time a person has to plan his or her party.
Themeaparty.com also offers a blog with at-your-fingertips fast facts and party tips, breaking things down to make it all easy to plan for. The staff is always on the hunt for new and unique party options.
"We know what it is to love to party and to entertain," Chris says. "We have plenty of experience doing this, and we're passing our best ideas along to our customers."
About Themeaparty.com:
Themeaparty.com is an online business and information website helping visitors plan and create memorable events for friends and family members – birthdays, backyard parties, Halloween, baby showers and any other celebration.
# # #