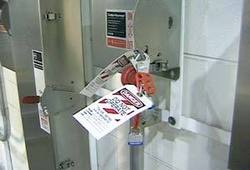 Safety training videos protect the well-being of people, property, and productivity
Plano, TX (PRWEB) August 2, 2010
PRWEB) August 2, 2010 -- "Safety training videos protect the well-being of people, property, and productivity," says Mark Woeppel. "That's good for any business." Woeppel is the President and CEO of Pinnacle Strategies, the company behind the just-launched site Safety-Video.com. Safety-Video.com offers a wide range of business-friendly safety training videos addressing health safety, fire safety, forklift safety, road safety, electrical safety, "and other workplace hazards that are costing businesses their profits," says Woeppel.
Woeppel points to the latest Liberty Mutual Workplace Safety Index report as evidence. "The report stated that improving workplace safety is a key strategy for managing the nearly $52 billion dollars that businesses are currently spending on the direct costs of workplace injuries," reports Woeppel. He notes that beyond medical expenses, workers' compensation payments, and costs for legal services in the event of a lawsuit, workplace accidents trigger a range of indirect costs.
These indirect costs include repairs to damaged equipment and property, hiring and training of replacement personnel, as well as costs associated with lower employee morale and absenteeism that is common in a work site that is considered unsafe. "Safety training videos can be an important factor in reducing these costs through ongoing education."
On-Demand Training
"Safety is a continuing education process," observes Woeppel, "but many companies treat it like a one-shot." He acknowledges that one obstacle to workplace safety training employers have faced in the past is that getting employees in one place, at one time to meet with a trainer meant cutting into productivity. Another impediment was the expense of the one-time training session itself.
"But safety training videos give employers access to on-demand training whenever they need it," says Woeppel. "They can be used over and over to train groups or individuals."
Safety training videos from Safety-Video.com were designed to motivate employees to re-dedicate themselves to a safe work environment and stay up-to-the-minute with the latest and best practices for an accident-free workplace. These safety training videos are also valuable when new workers come on board. "They can quickly bring just-hired employees up to speed regarding company practices and procedures," says Woeppel. "This makes everyone safer."
"Safety training videos are a wise investment in asset protection," says Woeppel. "Because they protect the most important business asset of all...human capital."
For additional information about Safety-Video's catalogue of safety training videos, to place an order, and to learn more about the company's free 3-week preview program, please visit http://safety-video.com.
# # #