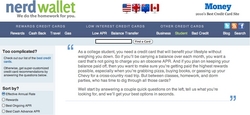 Going to college is the first time most students will be completely independent. Being independent, however, should include the knowledge of how to establish credit without abusing it.
New York, NY (PRWEB) August 3, 2010
It's time to head back to college, so pack your trunk with some credit card tips that could be some of the best lessons you ever learn.
Debt is a four letter word that can have long lasting adverse effects for college students and their families - well beyond graduation. This is perhaps the first opportunity students have to establish credit, and if abused now, it will follow them for years to come, affecting everything from getting a cell phone, to buying a car, renting an apartment, purchasing a house, or even getting a job, as many employers nowadays check credit histories. And while money management is a key part of the college experience, most students will head to college this month with little to no skills in credit management, no knowledge of key terms like cash advance, universal default and balance transfer, and clueless as to the ramifications of racking up credit card debt.
"Going to college is the first time most students will be completely independent. Being independent, however, should include the knowledge of how to establish credit without abusing it, and it's essential to learn what are the real benefits and repercussions of having a credit card," says NerdWallet.com founder and CEO Tim Chen. To get off to a good start with building your credit, Tim offers five tips to credit card smart college students. They'll be tested on this later in life!
1. Avoid the hard sell…and the freebies!
Banks want you as a customer, mostly because they want to make money off of you. But don't let them sell you! Take control, do your own research, and find your own card. And most importantly, ignore the freebies. That BofA t-shirt could end up costing you thousands of dollars down the road.
2. Avoid "Swipe Fever" - Credit cards are not free money, so don't bite off more than you can chew!
It may feel good to swipe for things you can't afford, but you will be the one paying for it later. Also avoid getting more than one credit card. More credit cards don't mean more money, they mean more responsibility.
3. Don't Delay: Pay!
Pay your bills on time, and pay more than the minimum. Make it easy by setting up email alerts, and using the auto-pay feature. Late payments not only incur huge fees, but the bank will hike up your interest rate. Late fees and increased interest can also push you over your credit limits unexpectedly, which would create more fees and more problems, digging you into an even bigger hole. Minimum payments are intended to keep you in debt, so that your payment decreases over time and you incur more interest charges for the bank's bottom line. By some estimates, if you have a $1,000 charge and only pay the minimum each month, it could take you 9 1/2 years to pay off, and cost you an additional $900 in interest.
4. To Co-Sign or Not to Co-Sign? Parents, be aware!
Recently passed regulations (The CARD Act) dictate that anyone under 21 who doesn't have proof of adequate income will need an employed co-signer. So parents, in this case it might make sense to avoid student credit cards altogether. Check to see if you can get lower interest rates and higher rewards by adding your children to your "adult" credit cards. Whichever you choose, keep in mind that if the credit card bill gets out of control, it will reflect on your own credit, making it harder for you to buy a car or a house. So if you your child isn't being fiscally responsible, you will be hurt too.
5. Shop around to find the right credit card
Try to find a card with no annual fee and a low APR (preferably less than 10 or 15%). Consider joining a credit union. There may be one on campus, and they'll generally have lower rates, lower fees, and much better customer service. And if you're definitely getting a card, go online to credit card search sites such as NerdWallet.com to compare a number of different offers side-by-side. No matter what you do, do not accept the first offer that arrives in the mail.
About NerdWallet
NerdWallet.com is a credit card search site started with the intention of taking the headache out of finding a credit card online, and saving users money in the process. NerdWallet currently indexes more than 600 of the cards in the Fed's database, and condenses the pertinent information into a dead-simple interface. Users just need to answer a few questions about their needs i.e. How much do you spend on gas? Are you transferring a balance? And they're presented with a straightforward ranking of the best cards for their situation. For more information, visit NerdWallet.com, the company's blog or follow them on Twitter.
###