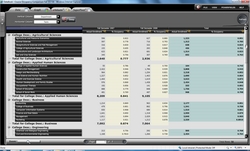 Charleston, SC (PRWEB) August 3, 2010
eThority, a leading provider of "user-obvious" enterprise performance and productivity solutions, today announced that University of Wisconsin-Stout has chosen DataScholar for institution-wide financial reporting and analysis. UW-Stout is the third campus in the University of Wisconsin system to select DataScholar to fulfill its performance management needs. DataScholar is a higher education performance engine that optimizes institutional performance with complete data access and comprehensive, interactive analytics. Powered by eThority, who has provided intuitive solutions to colleges and universities since 1992, DataScholar helps Higher Education leverage a user-obvious interface to empower users of all skills levels.
The University's deciding factors in adopting DataScholar include the solution's "user-obvious" interface, which enables users of all technical skill levels to interact with their data; the ability to create and automate reports; and the diversity of systems that DataScholar's proprietary ETL can bring into the application for integrated reporting across UW-Stout. Another key reason that UW-Stout chose DataScholar was its uniquely customizable dashboarding functionality will give users at-a-glance insight into their key metrics.
With DataScholar, UW-Stout will integrate a variety of data sources, including PeopleSoft Financials, Accounts Recievable/Accounts Payable data, and Assets Management data for analysis in the Central Finance Office. Reports will be automated and distributed to business managers across schools and departments. Business managers will then be able to "slice and dice" these reports to uncover additional information and insight.
About University of Wisconsin-Stout
UW-Stout, Wisconsin's Polytechnic University, has become a leader in its specialized fields. Through an emphasis on career training and practical experience, UW-Stout's programs have gained international recognition, and several are among the largest in the world. Students come to UW-Stout from 43 states and 32 nations. The university enjoys an excellent placement record, the result of active recruitment of graduates by more than 200 major companies that visit campus annually. A member of the University of Wisconsin System, UW-Stout has more than 9,000 students enrolled in graduate and undergraduate programs. The University is in Menomonie, 60 miles east of the Minneapolis-St. Paul metro area.
About eThority
Founded in 1992 and based in Charleston, SC, eThority is the provider of "user-obvious" enterprise performance engine software that empowers end users and offers IT an easily maintainable solution. In addition to eThority Enterprise, the company's flagship business analytics and reporting platform, eThority offers eXtensions: industry-specific modules designed to fill critical gaps in existing systems. Organizations choose eThority Enterprise because it provides real time end-user interaction with data in a secure, state-of-the-art platform capable of scaling from a single department to thousands of users. eThority's solutions are in use around the globe at major research universities and leading corporations. For more information, please visit http://www.eThority.com.
Trademarks
DataScholar and eThority are registered trademarks of eThority, Inc.
# # #