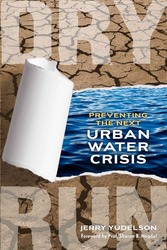 Blue is the New Green.
Tucson, AZ (Vocus) August 3, 2010
Green building consultant, author and thought leader, Jerry Yudelson has written a major new book that underscores the significance and social importance of urban water conservation and what can be done to prevent potential disasters. The book, "Dry Run: Preventing the Next Urban Water Crisis," is available now at New Society Publishers. Dry Run makes a persuasive case that urban water crises can be prevented, at the same time saving significant amounts of energy and contributing to a reduction in air pollution and global warming-related greenhouse gas emissions. A quick overview of the book is provided by a 90-second video "trailer" which can be viewed via YouTube: Dry Run Video
Yudelson says that "Blue is the New Green." In other words, now that the business case for green buildings has become well established, he says, "the next major focus of the green building movement will be to improve the water performance of green-rated and green-labeled buildings." Because of the business benefits of green building and the potential for major reductions in carbon dioxide emissions from buildings, Yudelson says, "We have to demand superior water performance from all green buildings, especially those with high-level certifications." In the book, Yudelson also provides practical guidance for public decision-makers, citing effective strategies from a wide range of cities, counties and metropolitan areas, both in the U.S. and Australia.
"Dry Run" provides a history of water use in cities, innovative case studies of the responses of seven U.S. regions to water shortages in the past five years and shows what has happened in Australia as a result of a long-term drought, unprecedented in that country's history. The book addresses design solutions available to commercial buildings as well as homes and illuminates how water issues connect to environmental sustainability. Yudelson also shows how water use and energy use are inextricably intertwined. He says, "You can't solve energy issues without addressing water issues, and vice versa. They are Siamese twins, forever joined at the hip."
"For the past decade, green building designers have focused heavily on energy efficiency," says Yudelson, "but now it's time to address water issues with the same level of intensity and concern. In this book, I show a wide range of innovative solutions that are practical today, solutions that can easily reduce water use 50 percent of more in most new buildings and 30 percent or more in existing buildings."
Reviews from leading global experts in the field are uniformly enthusiastic:
Throughout his book Jerry is able to explain complex techno-political issues in simple, direct language, making these issues accessible and understandable for a wide readership.
-- Tony Arnel, Chair, World Green Building Council, Melbourne, Australia
Dry Run provides a much needed and welcome examination of our impending water crisis and provides workable solutions to prevent it.
-- Bill Hoffman, PE, H.W. (Bill) Hoffman & Associates, Austin, TX
This is the first book that provides the specific information that you need to "future-proof" your house and your business against water scarcity.
-- Laura Shenkar, The Artemis Project, San Francisco
This is a must for every engineering and architecture practice with a serious focus on sustainability.
-- Thomas Auer, Transsolar Energietechnik, Stuttgart, Germany
Once again, Jerry Yudelson has taken a critical complex issue and presented it in a readable manner.
-- Ron van der Veen, AIA, Mithun, Seattle, WA
This book is the best summary of a comprehensive overall coverage of the entire urban water crisis context I have seen yet. Read it – You will understand why water will be the gold of the 21st century and what you can do to help avoid the crisis, mitigate or generate new business.
-- Guenter Haber-Davidson, Water Conservation Group, Sydney, Australia
Whether you're a green-living novice or a seasoned water professional, you'll find Dry Run enlightening.
-- Doug Bennett, Southern Nevada Water Authority, Las Vegas
Useful Links
More information can be found on these web pages:
Dry Run Book
New Society Publishers
Yudelson Associates Newsletter
About Yudelson Associates and Jerry Yudelson
Yudelson Associates is a leading international firm in sustainability consulting and green building certification services. The founder, Jerry Yudelson, is widely acknowledged as one of the nation's leading sustainability and green building consultants. He is the author of 12 leading-edge green building books, including most recently "Dry Run", "Green Building Trends: Europe", "Greening Existing Buildings" and "Sustainable Retail Development." He served for two years as "Research Scholar for Retail Real Estate Sustainability" for the International Council of Shopping Centers, a 70,000-member international trade organization. He is a frequent green building speaker at industry and professional conferences and chaired the U.S. green building industry's largest annual show, Greenbuild, for the past six years, from 2004 through 2009.
For more information please contact Jerry Yudelson, 520-207-9759, or visit Yudelson Associates.
###