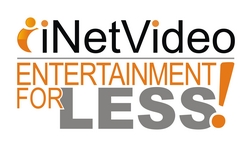 ...if you haven't experienced Blu-ray technology, you don't know what you're missing
Plattsburgh, NY (PRWEB) August 5, 2010
iNetVideo.com, an international distributor of digital entertainment products, today announced their Blu-ray giveaway contest which runs from August 1st through August 31st, 2010. The contest awards a grand prize of a new Blu-ray player to one lucky entrant, and a Blu-ray movie to each of five runner-ups.
"Blu-ray is such an exciting technology. Many people are sitting on the fence about upgrading, so we designed this contest to get the word out. If you haven't experienced Blu-ray technology, you don't know what you're missing," according to Alaa Hassan, iNetVideo company spokesperson.
The Blu-ray movie giveaway contest couldn't be easier to enter. Contestants simply go to the iNetVideo.com Contest Page and complete the simple entry form. Six names will be picked at random from among all participants who enter the contest. The grand prize winner receives the Blu-ray player, and the five runner-ups each get to choose one Blu-ray video from among a selection. The contest is open to residents everywhere except where prohibited by law.
"We think this Blu-ray Giveaway contest is an excellent way to help people experience the amazing video and audio quality of Blu-ray movies. It's not often you get the opportunity to step up to Blu-ray for free," Mr. Hassan added.
With more than 2 million orders shipped worldwide, iNetVideo has earned a reputation as a high-quality, low-price, direct-to-the-consumer entertainment products distributor.
"The Blu-ray giveaway contest will end on August 31, 2010, so it's best to take advantage of the opportunity to win now in order to avoid disappointment," Mr. Hassan said.
For full Blu-ray giveaway contest rules, and an online entry form, visit the iNetVideo Blu-ray Player Giveaway site now.
About iNetVideo:
iNetVideo.com, founded in 1999, offers a wide range of movies on DVD, HD DVD, Blu-ray, Video Games and Music CDs for less. They are one of the largest liquidators of entertainment products with offices based in the United States and in Canada.
Contacts:
iNetVideo
Alaa Hassan, Media Relations
iNetVideo.com
334 Cornelia Street #292
Plattsburgh, NY 12901
iNetVideo.ca
3737 Cote-Vertu
Saint-Laurent, Quebec
Canada, H4R 2C9
Phone: 1.866.501.4638
###