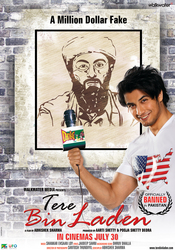 New York, NY (PRWEB) August 3, 2010
The global Bollywood hit Tere Bin Laden, a satire that spoofs the media's love for sensationalism, arrives in North America opening Friday, August 6, 2010. Critically acclaimed, the film has been banned by the Pakistani Government.
Tere Bin Laden, a comedic take on life in a post-9/11 world, portrays the bumpy road that many émigrés experience in achieving the American dream. Tere Bin Laden will distributed to limited theaters in the Tri-State area, Washington DC, the San Francisco Bay area, Chicago, Houston, Dallas-Ft. Worth, Los Angeles and Toronto.
This film depicts an ambitious news reporter "Ali" from Pakistan who is desperate to pursue the American dream. His repeated attempts to immigrate are routinely denied and when things couldn't look worse, he comes across an Osama Bin Laden look alike—he then takes a daring route to produce a fake Osama Bin Laden video and sell it to news channels as a breakthrough scoop. Unfortunately, there are serious ramifications as the White House gets involved and dispatches an overzealous secret agent on Ali's trail.
About the Film
Tere Bin Laden is produced by India's Walkwater Media, recently in the news for launching Shekhar Kapur's PANNI at the 2010 Cannes Film Festival. Abhishek Sharma, makes his directorial debut with Tere Bin Laden and lead actor Ali Zafar, who is a pop icon in his native country of Pakistan, his screen debut. For more information please visit: http://terebinladen.com.
To reserve a screener, please send your mailing address to: diana(dot)nasello(at)gmail(dot)com. Phone Interviews are available with both Ali Zafar and Director Abhishek Sharma.
Contact:
Diana Nasello
diana(dot)nasello(at)gmail(dot)com
T + 1 212 217 6225
###