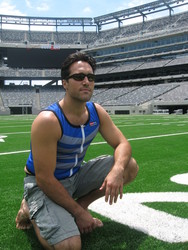 Heat stroke is preventable, yet young football players keep dying. This really is a sad situation
Westwood, NJ (PRWEB) August 4, 2010
It is August. It is summer. It is hot, and it is kick-off time across the country as pre-season football practice begins. Players will expect to get hot and sweaty, as their coaches attempt to whip them into shape. However a combination of hot/humid weather, tough conditioning drills and players unaccustomed to practicing once or twice a day in the heat, can make August a deadly and dangerous month.
Despite all the warnings, the National Center for Catastrophic Sport Injury Research reports that 39 football players (including 29 high school players) have died from heatstroke since 1995.
Heat related deaths are preventable. Yet no one ever seems to be responsible for these tragic events.
"From reading the media reports over the past few years, it is clear that there is a real lack of knowledge about how to prevent heat stress on the football field," says Dean Sainsbury from Arctic Heat USA. As an Australian who grew up coaching elite athletes in the hot local conditions, he knows all about coaching athletes in the extreme heat. "Our company is all about keeping athletes cool. We supply cooling vests to sports teams and individuals from Olympic and World Championships teams, through to Formula 1, NASCAR, NBA, Tour de France, Triathlon and every other major football code in the World (Soccer, Rugby, Australian Rules Football). They are all concerned about heat stress and keeping their athletes cool so that they remain safe and can perform better. Yet the Football community in the US seem to have a mentality that if you just drink lots of water there won't be a problem, everything will be fine. The tragic irony is that Arctic Heat has a product that was originally designed to keep professional football players cool and is used by every other major field sport in the World except you guessed it Football teams in the USA. Heat stroke is preventable, yet young football players keep dying. This really is a sad situation."
So how can football related heat stress be reduced?
Here is the what the Cool Down Fire Up experts recommend. Education, Prevention, Treatment.
1) Education. Providing the correct information to players, coaches, parents, administrators about how heat affects the body. Recognizing the signs of heat stress and heat stroke. Correct information about what to eat and drink, when and how much, and also what not to eat.
2) Prevention. Tips to keep athletes cool and help regulate core body temperature.
3) Treatment. Immediate emergency first aid treatment available at every practice session.
It would seem that current heat illness education levels are not up to the mark. Prevention is limited to commonsense actions such as don't practice in the heat, or have more rest stops, reduce training times, and remove gear. The immediate first aid treatment seems to be non-existant. The reported 9 heat related football deaths in the past 2 years seems to confirm this.
EDUCATION. The main problem associated with exercising in hot weather is the loss of water (blood plasma volume) through sweating. Drink more water is the mantra. However quite often drinking water is simply not enough to replace the sweat. Younger athletes don't have fully developed body cooling systems, they heat up quicker and can take longer to cool down than adults, so they are at a higher risk of heat related injuries.
In extremely hot weather the body will sweat at a rate which is faster than the consumed water can be absorbed into the body system. This vital information seems to be missing from the education manuals. Drinking too much water can also prove fatal.
The use of sports drinks, or water with some added salt (a pinch per quart) during practice will help to replace those lost fluids quicker, and help to retain the fluid in the body. Having some salty pretzels available with plain water has also been suggested. Hydration is a key factor, however drinking gallons of plain water doesn't necessarily mean that you are hydrated. The trick is to get that water back into your blood stream so that it can be useful in regulating core temperature. The salt will help to maintain your thrist longer so that you consume more water, it will reduce urination rates, and it will help you to ingest the water faster.
Recovery eating with the correct foods (high GI foods) within 30 minutes of every practice is important to ensure that athletes are replacing their energy stores for the next practice session. Less available energy means that the athlete is going to have to work harder, and will therefore create more heat.
PREVENTION. Tips to keep the body temperature cool and regulated include using ice vests / cooling vests, ice-slushy drinks, ice baths, ice-cold misting fans, shade areas, and frozen ice blocks.
Arctic Heat Cool vests can be used to pre-cool before practice, during practice, or for post practice recovery. Elite athletes in nearly every other sport use them.
Ice slushies made from water or mixed with sports drinks help to keep the body cooler, they work better than just cold water. Rent a slushy machine for the pre-season practice, the players will like it, and it will help keep your players cool.
Ice baths are not always practical but are very useful in post practice recovery and also for immediate treatment of any player suffering from heat stress.
Frozen ice blocks. Freeze water in paper or cheap plastic cups. These are often used to create ice blocks for first aid injuries, however the palms of your hands are a great area to help cool the body down. Have your players hold onto a couple of frozen ice blocks for a few minutes to aid in recovery.
Wearing light colors and reducing warm-up times (as the players are already warm) should be common-sense. For the coach; knowing exactly what you want to achieve from each practice session is vital. The amount of quality practice time is going to be limited, make the best use of it. Thirty minutes of quality practice is better than ninety minutes of average practice.
Set up a recovery area with a tent for shade and with a rented ice water misting fan. A make shift cooling area can be created with fans blowing across chests of ice, and also using ice cold water sprays. The cold icy breeze will help to cool your players. Inside the tent you could also have sports drinks, water, the salty pretzels, frozen ice blocks, cooling vests and so on.
TREATMENT. If someone is suffering from heat stress it is imperative that you cool them down right away, immediately. This means either access to an ice bath, or access to a cooling vest and additional cooling packs. The athlete's core temperature needs to be reduced fast. Ice baths are very useful, but can be impractical. The Arctic Heat cooling products are used worldwide for the immediate treatment of stroke and heart attack victims, and are ideally suited to treating athletes suffering from heat stress.
"If you believe that heat stress could be an issue then access to measures to immediately reduce and stabilize core body temperatures should be a workplace safety requirement. That could be an ice bath, Arctic Heat cooling vest, or some frozen towels. Bags of ice alone are not sufficient. If you don't have an immediate cooling treatment available are you really looking out for the welfare of your athletes? " said Dean Sainsbury.
The lightweight Arctic Heat Cooling Vest which retails for $189.95 uses a two stage cooling process. The vests contain a gel-like substance that can be frozen or chilled and will stay cold for up to 2 hours.
Check out http://www.arcticheatusa.com for more information.