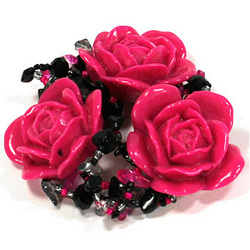 At Kristen Eternity, our goal is to provide excellent customer servcie and fast shipping.
Alhambra, CA (PRWEB) August 5, 2010
Kristen Eternity is a distributor of wholesale fashion jewelry and wholesale handbags. With Spring behind us it is time to look forwards to the coming cooler weather, and with fall and winter seasons around the corner, we will be getting ready to launch a brand new selection of exciting fashion accessories, including handbags, purses, wallets, and costume jewelry. Our handbbag collection for the pre-fall winter will be really gorgeous. 2010 will be an exciting year for fashion; experts predict that we will emerge from the global financial crisis and, as a result, we can expect to see a new standard of fashion rise up.
At Kristen Eternity, our goal is to provide excellent customer servcie and fast shipping. All orders are processed and shipped immediately within 24 hours, sometimes on the same day if orders are placed early enough during the day to get processed. We strive to bring quality products to our customers, but we also understand damaged or defective items do happen somtimes. Unlike other wholesale distributors who require you to go through a redundant process of filing claim, all we need is a simple phone call from you to take care of your claim quickly. With us, should any problem happen, such as defective items, damaged during shipping, or wrong items sent, simply give us a call and email us a photo of the troubled product, a refund will be issued or a replacment will be sent out immediately at your choosing. You do not need to return the damaged products, and there is absolutely no claim paperwork to file. Come visit is at http://www.kejeweler.com
###