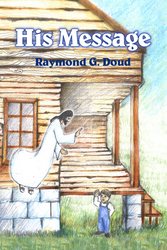 Pittsburgh, PA (Vocus) August 5, 2010
His Message by Raymond G. Doud has been released by Dorrance Publishing Co., Inc.
How many people have been directly entrusted with passing on a message from God? Though many today feel like God doesn't care what happens here on earth, Raymond Doud turns popular notions of divinity and the purpose of humanity upside down in this account of how he experienced the presence of God while shopping for a new garage door at a Home Depot. The circumstances were the most mundane, yet he was chosen by God to see equations related to the creation of humanity and the astounding power of the All-Mighty.
Read the inspiring account of the events that took place that day and how the visions he had in a parking lot shaped Doud's interaction with his grandchildren, members of his church, and meat salesmen. His warnings to avoid sin and embrace the fullness of God ring with a profound sense of someone acting on a stronger authority. Doud's experiences have changed the way he views life. With gripping honesty about his own failings and an all-consuming desire to live a more worthy life, his story has the potential to influence people of any religious background.
Raymond G. Doud is a Michigan native and a retired employee of Dow Corning Corporation. Doud was prompted to write God's message after remembering all his visions, where he was shown the equations of creation. Doud has been receiving information from time to time from the All-Mighty since this experience took place twelve years ago. He and his wife, Norma Jean, have one son, Scott. Doud enjoys volunteering at his grandchildren's school, working with crafts for children in the school district, helping in 4-H, and gardening.
His Message is a 94-page paperback at the retail price of $12.00. The ISBN is 978-1-4349-0624-3. It was published by Dorrance Publishing Co., Inc, of Pittsburgh, Pennsylvania. For more information, or to request a review copy please visit our virtual pressroom at http://www.dorrancepressroom.com or our online bookstore at http://www.dorrancebookstore.com
###