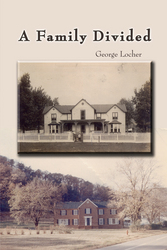 Pittsburgh, PA (Vocus) August 5, 2010
A Family Divided by George Locher has been released by Dorrance Publishing Co., Inc
Every family has a unique history that spans across generations and maybe even continents. Experience for yourself the rich family history of one man, George Locher, who has taken it upon himself to uncover the deep genealogical seeds that have rooted his family together for centuries. From a modest life in Zurich, Switzerland, with dreams of grandeur and importance, the Lochers followed their dream of owning a brick-making company and pursued that dream through its ups and downs.
From uncles who tried to sabotage the business to personal ailments that inflicted family members, Locher remained unwavering in his determination for his dream to succeed. Read about the victories and triumphs, the hardships and struggles of one family business. Follow their story through the Great Depression and World War II, two of the most difficult times in our nation's history to own a business. Bold, courageous, and unwilling to give up, the Lochers pushed through the tough times to accomplish more than they ever thought possible: an achievement that came with its own reward.
George Locher is a Lexington, Virginia, native and a retired employee of the brick industry. For the past eighteen years, he has been employed as a real estate agent in North Carolina and Virginia. Locher was prompted to write this book by Paul Traynor, a relative of the builder of one of the first brick houses in America. Traynor was impressed with Locher's extensive knowledge of the brick manufacturing industry.
Today Locher lives with his wife, Ellen Burger Locher, in Richmond, Virginia. The couple has a total of six children. Locher serves actively on his community's Habitat for Humanity board, and additional interests include golf and Civil War history.
A Family Divided is a 102-page paperback at the retail price of $13.00. The ISBN is 978-1-4349-0663-2. It was published by Dorrance Publishing Co. Inc, of Pittsburgh, Pennsylvania. For more information, or to request a review copy please visit our virtual pressroom at http://www.dorrancepressroom.com or ouronline bookstore at http://www.dorrancebookstore.com.
###