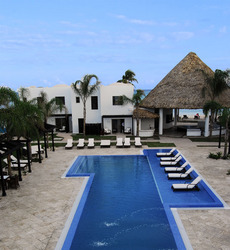 Houston, TX (PRWEB) August 6, 2010
In the span of only a few weeks, Las Terrazas, a Belize Luxury Resort, has been notified of selection for both the 2010 World Travel Awards and the Expedia® Insiders' Select™ List. The World Travel Awards are one of the most prestigious awards in the travel industry. This year, they selected Las Terrazas as a nominee for the 'Belize Leading Resort' category. Nominations are given to resorts and hotels by region as chosen by the WTA board. From there, voter's cast ballots for their favorite destinations - and the awards are given at the years end.
Beyond this, Expedia® travelers have in turn ranked Las Terrazas Resort among the world's best hotels and resorts on this year's Expedia Insiders' Select™ List. The list formally recognizes individual hotels worldwide that consistently deliver excellent service, a great overall experience and a notable value. The full list represents only a small percentage of the world's top hotels from the more than 110,000 hotel properties offered on Expedia.
"Delivering our guests superior service is a top priority at Las Terrazas Resort," said Carolyn Stone, Director of Sales, "We are pleased that our efforts have been acknowledged by two leading travel organizations and look forward to extending our high level of service to even more guests."
A major factor contributing to the industry wide recognition that Las Terrazas is receiving is their appeal to a wide variety of travelers. Recognized as one of the premiere Belize Resorts, Las Terrazas provides a relaxing environment for vacationers just looking to get away and come to an oceanside resort with sandy beaches, tropical weather, and luxurious accommodations. Las Terrazas is also well prepared for the more 'niche' travelers as well. A PADI 5-star dive shop provides equipment and dive trips for SCUBA enthusiasts. Mainland excursions to Mayan ruins and jungle destinations as well as cave tubing and zip lining are just some of the many other tours and eco tours that Las Terrazas has to offer. So whether you are content to just lounge on the beach, participate in the many water sports or take an eco tour on the mainland - Las Terrazas has guaranteed an incredible experience for each and every one of their guests.
The 2010 Expedia Insiders' Select™ list is compiled based on the more than one million Traveler Opinions hotel and resort reviews collected by Expedia, combined with a value rating and the local market expertise of more than 400 Expedia employees worldwide. The result is an easy-to-browse list that provides travelers with a powerful way to find the perfect hotel or resort using the trusted insight of other travelers like them. The list showcases the diverse selection of travel destinations and hotel properties.
The 2010 World Travel Award Nominees are vetted and inspected by a group of industry expers. Issues such as customer relations, creativity, quality of service, standards, guest satisfaction, product innovation and business accumen are all taken into consideration.
For more information visit Expedia Insider Select or WorldTravelAward.com
For more information about Las Terrazas resort or to book a vacation please visit our website (http://www.lasterrazasresort.com/) or call us toll free at 1-800-447-1553.
ABOUT LAS TERRAZAS RESORT
Las Terrazas (http://www.lasterrazasresort.com), a five-star Caribbean luxury resort and residential development on the island of Ambergris Caye in Belize features 38 magnificent one, two and three bedroom town homes. The units include balconies, some with private plunge pools, as well as exquisite furniture handcrafted from Belizean wood, spacious kitchens with granite countertops and Kitchen Aid appliances, large plasma TV's in each living room and master bedroom, telephones, DVD players, i-pod docking stations, surround sound and high speed internet access. Las Terrazas is located on the largest private beachfront on the island, has a 70' infinity lap pool, fitness center and the Serenity Spa and Wellness Center. On site Concierge is able to assist with an array of island and mainland excursions including dive and snorkel trips with White Sands Dive Shop; a PADI 5-star facility. Las Terrazas Resort is a member of Preferred Boutique and the only member of Preferred Hotel Group in Belize. The resort is also a member of Sustainable Travel International. For reservations visit our website or call free 1-800-447-1553.
Carolyn Stone
Director of Sales and Marketing
Las Terrazas Resort
1+713-780-1233
# # #