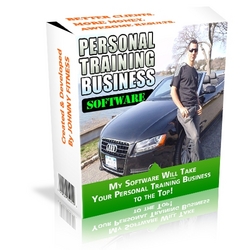 This software & system is the EXACT process Jonathan used to land top tier, high end clients, like Jillian Michaels, who pay him over $150 an hour to take them to their next level. The software is actually 7 powerful tools rolled into one.
New York, New York (PRWEB) August 9, 2010
The same exact personal training business software that top trainers to celebrity stars like Jillian Michaels use to grow their business to 6 figure annual income is now available to all personal trainers and fitness professionals. Just released by Jonathan Angelilli, aka Johnny Fitness, this incredible software will help any personal fitness trainer quickly evaluate their fitness business, makes marketing fitness fun and easy, and creates a solid foundation for a very successful fitness career. This business software for personal trainers allows the user to manage their personal training clients while attracting new fitness clients who not only are willing to pay top dollar, but are also fun and exciting to work with.
"When I first started my personal training business, I was doing well, but I was scrambling and finding out that my business was controlling me. I started to lose not only my passion but also my fitness level due to being scattered, disorganized, and over worked. Initially I had a paper version of the software, which I am now giving away for free for a limited amount of time, and it helped me quickly build my income to 6 figures by the age of 23! You basically put in your business information, and it spits out a customized fitness business plan!" says celebrity trainer Jonathan Angelilli, creator and president of Dynamic Results, Inc.
This is not just a contact management software but a system specifically designed to get personal trainers to look deep into their personal fitness business and find areas of opportunity they did not realize they had. It also addresses common issues like shyness, fear of raising prices, how to price, how to stay ahead of the game, how to overcome challenges when starting a personal training business, client retention, client referrals, working smarter, and sales for personal trainers, which all adds up to an system for creating a truly awesome personal training career.
This software and system is the EXACT process Jonathan used to land top tier, high end clients who pay him over $150 an hour to take them to their next level. This includes landing clients like Jillian Michael's from ABC's "Biggest Loser", and other great people, including top financial professionals on Wall Street, doctors, executives, entrepreneurs, physical therapists and more.
"It does not matter if you are just starting out, or have been a personal trainer for a long time and have a stable business, my software and training system will help anyone take their business to the next level, and more importantly show them how to run their business in a way that is fun and fulfilling, so that they can live the lifestyle they desire! It is really exciting and really simple! How can one thing achieve all of this? Well, because it is actually 7 tools all built into one piece of software. The software has the highest concentration of personal trainer resources available in one place and comes with membership access to our personal trainer forums, which is a cutting edge community of elite fitness professional who share information and work together to find ways to continually raise the bar for themselves, their clients, and the fitness industry!"
This software is available for a limited time, absolutely free of charge at http://www.PersonalTrainingBusinessSoftware.com, for all fitness professionals who want to take their business and income to the next level.
Biography: Jonathan Angelilli, a.k.a Johnny Fitness, is a fitness entrepreneur and celebrity trainer who is passionate about helping personal training clients transform their lives through fitness. He loves teaching other personal fitness professionals how to build the ultimate fitness career. With several celebrity and high end fitness clients, including top trainers like Jillian Michaels, he is a widely sought after resource for new agencies doing topical interviews on the fitness industry, and he has several websites targeting niche business opportunities for personal trainers.
His main site is http://PersonalTrainingBusiness.com and can be contacted for industry interviews or consulting at 646-461-3336.
###