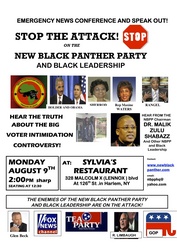 Stop The Attack On The New Black Panther Party and Black Leadership.
Washington, DC (PRWEB) August 8, 2010
Subject: News Conference: "Stop The Attack On The New Black Panther Party and Black Leadership." Monday, August 9th, New York
Date: Monday August 9th
Time:
2:00pm est. Doors open at 12:30
Location:
Sylvia's Restaurant
328 Malcolm X Blvd (Lennox ave)
and corner of 126th streets
Manhattan/ Harlem, New York.
Contacts: shabazzlawoffice(at)yahoo(dot)com
(202) 202 397 4577
United States of America v. The New Black Panther Party for self defense, et., al. United States District Court, Eastern District of Pennsylvania civil action #09-65
Subject: "Stop The Attack On The New Black Panther Party and Black Leadership." The leadership of America's most controversial, slandered and misrepresented Black organization will clear up the lies and reveal the truth about the huge "voter intimidation" controversy raging in the media, national mid term elections, congress and the courts.
All the hot questions will be answered:
Is the Obama Administration "racist against whites" in terms of US Department of Justice Policy?
Were the Voter Intimidation charges against the New Black Panther Party wrongfully dropped for racial or political reasons?
Will Republicans, Glen Beck, Rush Limbaugh and the rest, succeed in forcing Attorney General Eric Holder to refil charges against the New Black Panthers and their leadership?
Was Shirley Sherrod dropped from USDA so quickly because of the intense pressure on the Obama Administration over the handling of the Panther case?
Is the attack on the Panthers, Shirley Sherrod, Rep. Charlie Rangel (D-NY), Rep. Maxine Waters (D-NY) a coordinated attack?
Is there a GOP or right wing and FOX news conspiracy to frighten white voters and whip up a toxic racial environment by demonizing the Panthers and demonizing Obama? Are they whipping up a frenzy to bring out white voters?
Is the New Black Panther Party a racist hate group or a "crackpot fringe group", or do the Panthers and their leader Attorney Malik Zulu Shabazz have an intelligent message and program for the upliftment of Black People?
Who are the New Black Panthers? Do they have any support from other leaders? Why does everyone want to talk about them but are afraid to talk to them see why they are growing fast all over America and the world?
Come out and get the facts for yourself!
Participants:
Dr. Malik Zulu Shabazz- Attorney and National Chairman of the New Black Panther Party. Founder, Black Lawyers For Justice.
New York City Councilman Charles Barron (D-Brooklyn)
Shabazz will be joined by Minister Hashim Nzinga (New Black Panther Party Chief of Staff-Atlanta). Divine Allah- Former Trenton, NJ 2010 City Council Candidate, (NBPP National Youth Minister)
Also, King Samir Shabazz. Philadelphia Chairman, New Black Panther Party and Hip Hop Artist. Bashir Akinyele- Newark Anti Violence Coalition Founder, Newark, NJ New Black Panther Party. Minister Zayid Muhammad- NBPP National Minister of Culture. Other National New Panther Leaders.
Talk to the members who charges were dropped against for yourself.
Other leaders will attend: Dr. Leonard Jeffries. Representatives of Louis Farrakhan and the Nation of Islam. , Dr. Delois Blakely, National Black United Front.
Special invite to the Black Press; Don't depend on the mainstream media for your stories or information about leaders and organizers in your own community. Come and talk to Dr. Malik Shabazz and the Panthers for yourself and get the truth about this raging national crisis.
# # #