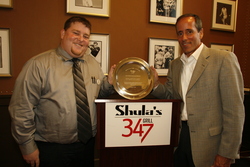 We are head-over-heels excited about welcoming Shula's 347 Grill to the program as our 15,000th restaurant
Jacksonville, FL (PRWEB) August 9, 2010
At a commemorative event, held today at Shula's 347 Grill in Jacksonville, Fla. in the Sheraton Jacksonville Hotel, Restaurant.com officially named Shula's 347 Grill as the online gift certificate provider's 15,000th restaurant. The addition of Shula's 347 Grill combines the quality diners have come to expect from the legendary Shula's Steak House family, a well-known operation founded by Hall of Fame Coach Don Shula, with savvy, money-saving gift certificates.
Through the milestone, Restaurant.com ranks as the leading company in the growing discount-dining category, now with a total of more than 30,000 gift certificates available "24/7"--for restaurants nationwide.
"We are head-over-heels excited about welcoming Shula's 347 Grill to the program as our 15,000th restaurant," said Cary Chessick, Restaurant.com president and CEO. "Their name represents a level of cuisine and service that is in a league of its own."
Shula's 347 Grill joins eleven other Shula's Steak House properties, which have been on the Restaurant.com program for the past year. Every participating restaurant features a Web page offering personalized descriptions of cuisine and menu items, as well as information about pricing, locale, hours of operation and more.
After selecting a restaurant on Restaurant.com, diners pick, purchase and print their gift certificate for immediate use. Diners present their Restaurant.com gift certificate upon arrival, which is then honored on-site. Shula's 347 Grill and other restaurants benefit from increased exposure and marketing, as well as value-added services such as diner survey results, profit estimates, reports showing number of tables filled, and custom marketing services--all provided for no out-of-pocket costs.
"Restaurant.com has shown how Shula's 347 Grill fits well into many of life's special and everyday occasions by motivating new and long-time guests to dine out," said Robbie Smith, Head Coach of Shula's 347 Grill. "We are honored that Restaurant.com took the time to recognize us, show their hospitality and get to know Shula's 347 Grill."
During the Jacksonville event, Restaurant.com showed appreciation for the partnership by adding an element of tribute to "welcome in" Shula's 347 Grill. Executives from both companies shared a celebratory meal that included signature entrees such as filet mignon and New York strip, which are the same aged, custom cuts served at all Shula's Steak Houses across the country. Restaurant.com also presented Shula's 347 Grill with an engraved "15,000th Restaurant.com Restaurant" pewter plate.
Commemoration was also shared through a "relaxation package" for a deserving Shula's 347 Grill employee. The package included airfare for two to Las Vegas, compliments of Orbitz, a Restaurant.com Incentive and Loyalty Solutions partner. The Shula's employee will also receive a weekend stay at Mandalay Bay Resort and Casino. Nine of Mandalay's restaurants are also Restaurant.com restaurants.
Restaurant.com is celebrating its 10th year of business throughout 2010. The company has doubled the number of participating restaurants on the program in the last two years. Nearly $1 billion in total gift certificate inventory is available on Restaurant.com from month to month.
According to Chessick, "Reaching this milestone shows that Restaurant.com has firmly established itself as the trusted and valued source connecting restaurants and diners. No other company has amassed and cultivated so many restaurant relationships that offer greater savings or more deals for diners. We will continue to focus on smart growth that meets the greatest unmet needs of restaurants and diners alike."
About Restaurant.com
Restaurant.com is the trusted and valued source connecting restaurants and diners nationwide. The company offers savings at more than 15,000 restaurants nationwide with more than 30,000 daily gift certificate options. Restaurant.com brings people together to relax, converse and enjoy well-prepared and -served meals at affordable prices. To date, Restaurant.com customers have saved more than $500 million through the gift certificate program. Restaurant.com has operated since 1999 and is based in Arlington Heights, Ill.
# # #