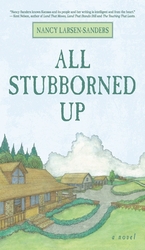 Nancy Sanders knows Kansas and its people and her writing is intelligent and from the heart.
Colby, Kan. (Vocus) August 11, 2010
In the sophisticated new novel by Nancy Larsen-Sanders, one woman faces the twofold terror of being hunted by an attacker returning to assault her after 50 years while she feels the cloudiness of Alzheimer's threatening to take over her brain in All Stubborned Up (published by iUniverse).
Just retired from her tenure as an English professor at the University of Kansas, Claire Collier is settling in to live a relaxed, secluded life on her family ranch, where she'll be able to finish her fourth book and look after her brother, James, suffering from Alzheimer's.
Claire's beloved peace and quiet is shattered when a masked criminal begins terrorizing the Kansas countryside, leaving a brutal trail of destruction and rape in his wake. Everyone is on edge, including Claire, who begins to have unsettling flashbacks about the painful assault she experienced nearly 50 years ago. The sudden, recent death of her husband still a fresh wound, and her anxiety compounded by the symptoms of Alzheimer's she slowly begins to notice in herself send her into a downward spiral of depression and hopelessness.
Turning to therapy and medication to cope with the stress of haunting memories and present difficulties, Claire thinks she has herself back on track when she makes the chilling realization that her attacker from so long ago is back and out to get her. One thing's crystal clear: Claire is going to have to fight for her life once again. Will she succeed? Find out in All Stubborned Up, a skillfully-crafted, character-driven suspense novel that deftly incorporates elements of psychological analysis.
Kent Nelson, author of Land That Moves, Land That Stands Still, writes: "Nancy Sanders knows Kansas and its people and her writing is intelligent and from the heart."
The youngest of nine children, Nancy Larsen-Sanders grew up in rural Kansas and draws much of her inspiration from the landscape and its residents. She studied English, creative writing, remedial reading and learning disabilities at Kansas Wesleyan University, Kansas State University, the University of Kansas and Fort Hays State University. She spent several years teaching college courses in composition, creative writing and English as a second language before transitioning to a career working with disabled students in Colby, Kan., secondary schools. Now retired, Larsen-Sanders spends much of her time writing. She is married with two children and two grandchildren.
iUniverse is the premier book publisher for emerging, self-published authors. For more information, please visit http://www.iuniverse.com.
###